Melbourne provided a lie - early morning sunshine - nearing game time along came the dark clouds and the Papua New Guinea Mosquitoes and New Zealand Hawks warm up and pre game photos became rain drenched.
Both sides now face the task of a 5th game in 2 weeks - on the vast expanses of the Melbourne Cricket Ground. The surface of course is superb - there is no muddy centre wicket area - there's no patchy grass or exposed soil. There is though a 50 metre arc (not 45m) and wide wings. The capacity to cover territory and retain run in the legs will be critical. No height advantage is worth anything without supply.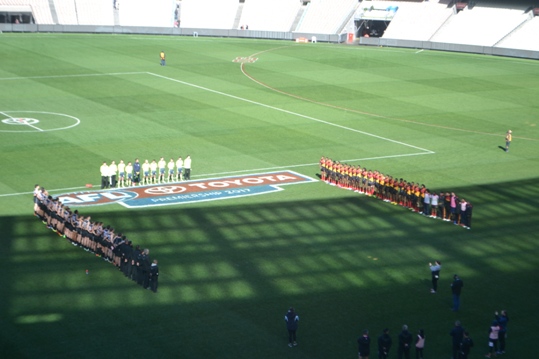 Under mostly blue skies the game gets underway - New Zealand kicking to the Punt Road end. PNG to the City end.