Interested in becoming a full-time Australian Football Development Officer in the Pacific? The International Australian Football Council (disputed title) wants to hear from you.
The IAFC is searching for applicants aged between 18 and 30 who have a strong interest in the international expansion of Australian football and are willing to take part in a 9-12 month Australian football development assignment in Fiji, Tonga or the Solomon Islands.
The program is part of the Australian Youth Ambassadors for Development (AYAD) concept organised in conjunction with AusAID. AYAD ambassadors instigate projects to help local communities in developing nations. The IAFC positions will assist the development of Australian football at all levels in the participating nations.
This includes administration, planning, finance and income generation, coaching and football education, junior schools programs, facilities development, football competitions, event management, and promotion and publicity.
The program provides full support to cover the costs associated with volunteering overseas, including pre-departure medicals, insurance, travel, living allowance and the support of a dedicated in-country manager. The program offers young people the opportunity to work whilst experiencing the rich culture and beautiful scenery of the Pacific nations first-hand.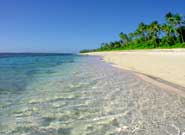 Applicants will need to demonstrate an ability to work well in a team and understand cultural differences. They will also need to be prepared for beautiful weather and stunning beaches.
Job descriptions for the Fiji[*1] , Tonga[*2] and Solomon Islands[*3] positions can be found online, or can be obtained by contacting Brian Clarke on (+613) 9686 2345 or via e-mail at clarkey@iafc.com.au. The closing date for applications is 15 October, 2004.