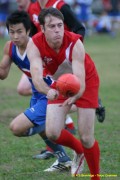 On 21st November, the Japan AFL Grand Final was held. In a repeat of the 2003 season finale, it was the Tokyo Goannas, the primarily expatriate Australian club, up against the University-based Samurai. The Uni boys provided most of the players who recently toured Australia (see previous stories), and have shown much improved form in 2004.
The Japanese players have been training as often as five times a week in their fanatical commitment to Australian football. The minor season finished with the Goannas and Samurai in the top two spots, followed by the Galahs (an Irish expat based side) and the Tokyo Gokongs, who are a side of Japanese University graduates.
The Grand Final was played on the excellent Narita Radisson Hotel ground, about two hours from where most of the players live. The Japanese players arrived very early and started to prepare, but were slow out of the blocks, before fighting back to lead by two to three goals at half-time.
According to Box Hill North player Nick Benbow (on exchange from Victoria), it was a game of contrasts, with the Goannas playing a long and direct game using their height to advantage, and the Samurais with mid-field attacking flair and superior fitness.
The third quarter was tight, but then in the last the Goannas stormed home, despite the Samurai's superior fitness. In an absolute cliff-hanger, the Goannas hung on to win by 3 points.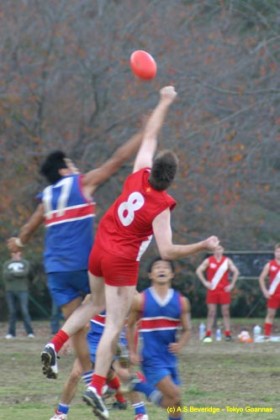 Final Score: Samurai 14.15 (99), Goannas 15.12 (102)
Best on Ground: Michito, Dan McGrath, Shane Flanagan
Umpires: Craig Forster, Gareth Jones, Pete Lawley
Story compiled from information at the
Tokyo Goannas website.
[*1]