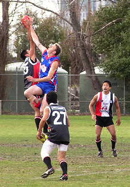 Two sides desperate for their second win in the tournament fought a tough match at Murphy Reserve today in freezing conditions with the Bulldogs running out 40 point winners against a battle weary Samurai side.
After a tough opening 5 minutes the Bulldogs adapted to the conditions faster than their opponents putting on 3 goals in quick succession, using the strong breeze to launch their forward attacks. The boundary line was the Samurais' best friend in the wild conditions and short accurate passing was needed to make any headway into the wind. After another long ball in was capitalized by Ford (5) he converted truely to put the Bulldogs 4 goals up at quarter time.
The Japananese leaders came out firing in the second. After a good clearance from Kase (1), Sakaki (12) managed to elude his opponent then kicked their first. In what was a tough stuggle for both sides scoring was at a premium. Both sides turned over the ball on numerous occasions and frustration crept into their play. A British player was sent off for a behind the play indiscretion late in the quarter, for which the tribunal will later be sitting. The Bulldogs got their only goal for the quater with a free for a high tackle on Ford (5) in the goalsquare. They went into the break ahead 5.4 34 to 1.0 6
Japan had plenty of ball early on and persistance by the Samurai midfielders of Tanaka (9) and Sakaki (12) was complemented by Shiba (3) up forward who running into an open goal breathed some life into a battle weary side. The Samurai put their smaller bodies on the line but as in the second quarter the Bulldogs managed to get a late goal and steady the ship.
Two goals early on in the last snuffed out any chance of a Samurai comback. With Rees (28) being totally dominant in the Ruck and Cockram (20) and their reliable captain Boyle (15) providing plenty of headaches up forward the game was all but over. The Samurai after having three goals touched on the line finally got a consolation goal late in the match but the damage was already done, as the Brits secured back-to-back wins with a very comfortable margin.
Final scores

Great Britain 9.9 (63)
Japan 3.5 (23)