After having reviewed the form of the sides that finished 6th to 10th at the 2005 International Cup, we now look at the top 5 and how they performed compared with predictions.
1st - New Zealand (predicted: 3rd)
After entering the 2002 Cup as one of the favourites, the Falcons ran into the classy Irish and in their only loss went down by 14 points. This time around there was no such problem. With a relatively easy draw they knocked over Great Britain, Spain, Japan, Samoa, the USA and PNG. With an average winning margin of 55 points (with only 15 minute quarters, no time-on) and only ever looking in danger against PNG in the final, there is no doubt the Kiwis were the tournament stand-out. Their system of play, discipline, strength, skills and good size mix all contributed to setting what will hopefully become the benchmark for future Cups. Their match against Samoa was the benchmark for me - up against a good side they moved the ball with precision and strength for a surprisingly easy win. With many of their squad both Aussie Rules and Rugby players they were good athletes but with excellent footy skills that really only PNG could match. Talk from those that would know suggested that several of the Kiwis would be a chance at Australian state league level (i.e. VFL, SANFL, WAFL) if given a reasonable opportunity. Certainly as a whole the team looked at least as good as a higher level amateur side (e.g. VAFA, SAAFL) - at least to me - this is hotly debated. Their comfortable loss to Victorian country side Maffra 2 months ago should be put into context - New Zealand was out of season nor had they ever played together as a squad, whereas Maffra have had many years together and have not lost for around 2 years. Expect to see more Aussie teams heading to the Land of the Long White Cloud to challenge the new Cup champions.

2nd - Papua New Guinea (predicted: 1st)
Slow starters against Ireland in the last Grand Final, PNG were unable to overhaul the deficit and were runners-up. PNG this time brought more players with elite training backgrounds from their Pathways program. With a handful of such players they at times stepped up a level from 2002, but overall never really clicked as a team. Although making the final undefeated with wins against Samoa, Canada, Great Britain, the USA and Ireland, their winning margin averaged a low 17 points and NZ were too strong in the Grand Final. Although the players were upset, the coaching staff, while also feeling the pain, were philosphical, knowing that their focus on the event was less than New Zealand's, and that with their large junior programs 2008 should see an entire side of well developed talent and it should take a performance out of the ordinary to beat them. They will no doubt produce many quality players in the near future, but can they develop a top rate team? - perhaps at this level, but their major weakness to be addressed will be finding key position players. Their lack of size was sometimes exploited and in part contributed to their erratic (though often exciting) style. Overall, an excellent tournament and with most players under 20, a promising future.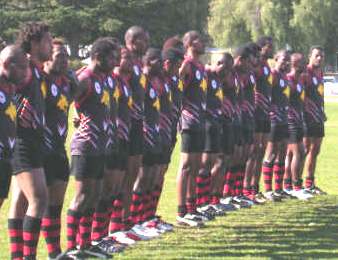 3rd - USA (predicted: 4th)
A solid side in 2002, the Americans came with plenty of hype. Although they were expected to improve, they went close to living up to the noise. A solid win over South Africa was followed by the breakthrough match in which they defeated reigning champs Ireland. It signalled both the rise of the Revolution and the fall of the Irish. The US went on to comfortably beat Spain and lose by a single point to PNG, although it should be noted that PNG looked to be coasting when the US struck back with two goals in the last two minutes. In their semi-final New Zealand always looked to have their measure, ultimately doubling their score, but the Kiwis smashed most sides, and there is no doubt the Revolution are deservedly climbing the international footy ladder. Their return bout with Ireland was totally one-sided, with the boys in green never raising a challenge to the Revos. With growing numbers and plans for a major college program, expect the North Americans to be a permanent fixture in the top four. The only question mark will be whether they can keep pace with the top two or three countries without significant junior development which has proven difficult to implement thus far. But the huge population base means any small per capita programs can yield impressive results. A great 2005 series for the USA and an appropriate ranking of 3rd.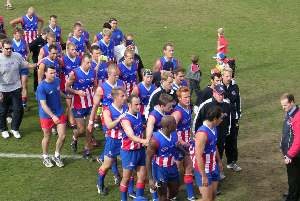 4th - Ireland (predicted: 2nd)
The lads from the Emerald Isle were always under the pump. In 2002 they had the benefit of some elite county Gaelic football players, but for various internal reasons they were denied them this time around. This made Ireland vulnerable, and as defending champions everyone had them in their sights. On the upside many of their raw players from 2002 had a few more years under their belts and so a successful defence wasn't out of the question. Right from the start it was clear they couldn't get their trademark running game going, not aided by some of the smaller fields. They also lacked clean marking forwards and had to struggle for goals in most games. Nevertheless they had a narrow triumph over Canada and big wins against South Africa and Japan. But a small round 2 loss to the USA was a sign of things to come, with PNG squeezing past them by 9 points in their semi-final. Their third place play-off with the US could have been interesting, with conflicting reports on the Irish mood. There were suggestions they were desperate to atone for their earlier loss, but it was also clear they were shattered by not winning the right to defend their title in the Grand Final at the MCG. They also had several key players pull out before the match and were never in the contest. In the end fourth was a fair rank. The future isn't clear. Aussie Rules is very well known in Ireland but the league have a constant battle with the GAA to secure grounds and players, and with the AFL keen not to jeopardise the International Rules series support for the Irish league is small. On the other hand there are many thousands of men playing Gaelic football in Ireland and who knows, some top quality players could make the switch, so it seems Ireland will be a very hard team to predict for the forseeable future.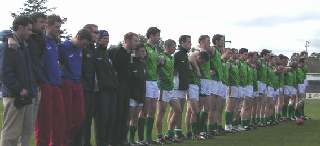 5th - Samoa (predicted: 6th)
The island Bulldogs are an interesting combination. Not a lot of senior level Aussie Rules goes on in Samoa, with the main work being a small junior program trying to stay alive. But many of the International Cup side are Samoan nationals playing footy in Melbourne, and that combined with their impressive physiques makes them a daunting prospect. They tended to be inconsistent, generally coming home strongly after indifferent first halves (just ask Canada). Samoa pushed PNG in the first round, crushed Great Britain, stormed home to pinch a win from Canada, and played well against New Zealand, only to be thrashed on the scoreboard by the superb Kiwis. They were then too strong for South Africa in their first final and had a 12 point win over Britain despite terrible kicking for goal. The reality is that Samoan footy is at a tenuous point as to whether it will go forward, yet if it does continue with juniors reasonable success is all but guaranteed with great body shapes and even with a small program it could easily produce an AFL draftee. After a good showing in 2002 they backed up well again for 5th, and could possibly have squeezed into the four with a better draw.

So how did our tips go overall? Considering the draw changed around a bit, and there were virtually no internationals since the last International Cup to judge teams against, and we don't have the benefit of seeing the players in action, I think we did pretty well. Allowing for the withdrawal of Denmark and Nauru, no team finished more than 2 spots away from where we placed them, and the mean error was 1.4 positions. Then again, if you simply ranked the sides the same as 2002 and placed Spain last, you would have done about the same (slightly better with a mean error of 1.0). So perhaps this tells us that with all the ongoing improvement in most nations, it's very difficult to significantly shift yourself up the ladder of international footy in a short period. The biggest mover was Ireland, down 3 spots, with the next biggest move just 2 spots (although in New Zealand's case a very significant 2 spots, up to top). It will be fascinating to see who the big movers are in 2008. Maybe no one? If there was to be one major climb, perhaps South Africa are the best chance.