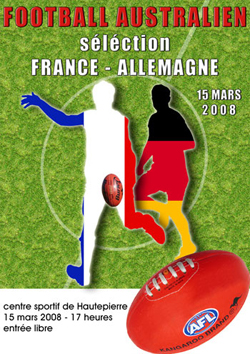 The French footy season kicks off in earnest on March 15th with a clash between the French national team and a German selection in Strasbourg. The game will mark the first appearance of players from the new Bourdeaux Bombers, who will join their counterparts from the Strasbourg Kangaroos and Paris Cockerels for the encounter. Kick-off is at 5pm, with free entry for spectators at the Hautepierre Sports Centre.
The Bourdelais will then back this up with their first home match, hosting Barcelona in early April, while Strasbourg have a match scheduled against the Flying Dutchmen in the coming months.
The weekend of July 5th has also been earmarked for the French national club championship, with Paris, Strasbourg and Bourdeaux possibly to be joined by a new club from Montpellier. The new club would be the second to have existed in their area of France, not far from Perpignan where the short-lived St Esteve Saints existed a few years ago.
More information at the internet home of French footy, FootballAustralien.com[*1] .