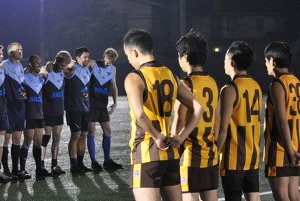 It has taken 21 years – but the Osaka Dingoes have secured their first Japan AFL Premiership, overpowering the Eastern Hawks by 22 points.
The teams had met in Osaka in the regular season, with the Minor Premiers, the Dingoes running out winners 78 to 42 winners
The start of the Grand Final went Osaka's way. The Dingoes scored early in the First Quarter, courtesy of D. Moon, who ended up with six goals for the match. By Half Time their lead was 21 points, and the match looked over. In the Third Quarter, the Hawks managed to claw their way back into the game and at Three Quarter Time, Osaka's margin had been narrowed to 7 points, and momentum was with the Hawks. Osaka must have been given a rev-up at the final break, as they kept the Hawks scoreless in the final quarter, whilst adding two more goals to their tally.
The first premiership for the Osaka Dingoes; a fitting way to send off their coach A. Reidy and vice-captain S. Schwarz. To add to the achievement, B. Snowdon won the Grand final MVP.
Osaka Dingoes 11.11 (77) defeated Eastern Hawks 8.7 (55)
Goals:
[Osaka] D.Moon 6, J.Cooper 2, G.Tanaka, P.Wenske, B. Snowdon
[Eastern]Y.Hoshi 3, J.Hole 2, T.Seto, H.Shiba, Y.Kuno
Held on 13 November 2011 at Yokohama Country & Athletics Club