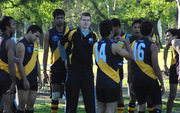 A new football club was born in Melbourne this week with the incorporation of the Masala Football Club. The intention is that it will be a club with a Subcontinental flavour.
The club is aiming to be a starter in the Club XVIII competition in the VAFA for season 2013. They are currently seeking a home ground in metro Melbourne and are working with local councils on securing one.
The club founders are: Ash Nugent (President), Trevor Banerjee (Operations Manager), Fevin Mascarenhas (Treasurer), William Fernandes (Secretary) and Shyam Sharma. Those names may be familiar to some of our readers. Ash (as well as being a long time writer and editor at WFN) was Team Manager for the Indian team at the 2011 International Cup. Trevor, Fevin and Will all played for India at IC11 and Shyam has previously represented India at Multicultural Cups.
Ash Nugent told us that, "the project is supported by the Richmond Football Club, although at this stage I don't know what that support will look like. We are currently seeking sponsors and will be looking for players in a few months. Potential sponsors should contact me directly. Players can do likewise or check out the club's Facebook page."
And all of the usual things that any footy club must get sorted still have to be done, "we still need a logo and official colours. If anyone with a design background or creative flair wants to email us potential logos we would definitely consider it." Nugent said.
But plenty of thought has gone into the aims of the club which are:
a. Educate the communities from the Subcontinent about Australian Football
b. Encourage the communities from the Subcontinent to actively follow Australian Football
c. Provide a safe and comfortable environment for the greater community to play Australian Football (initially this is a mens team although if all works out we'll expand to juniors, womens and Auskick)