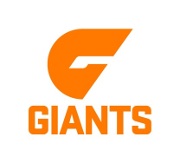 G'day Footy Fans,
It's been an exciting year for GIANTS community clubs around the globe. Nearly 20 clubs across Australia and the world wore the GIANTS colours in 2014.
For a club that's only been in the AFL for three years this is a fantastic achievement and we want to spread the GIANTS name across the world.
The South East London GIANTS[*1] made the AFL London Grand Final for the first time but lost in a close match. The Zaprude GIANTS[*2] in Croatia came fourth in the CEAFL league which includes Croatian and Austrian teams while they came third in the Croatian National League.
The North Leinster GIANTS[*3] also finished fifth in the ARFLI, the Irish National League. Over in the United States, the Indianapolis GIANTS[*4] are in just their second year of existence.
Earlier this year, Jeremy Cameron's home club of Dartmoor in south-west Victoria changed their name from the Swans to the GIANTS. It was an instant success with the senior side completing an undefeated season and winning the South West District Football League Grand Final.
Another new GIANTS team in 2014, the Manly GIANTS, were premiers of the AFL Sydney Premier Division, defeating Pennant Hills in the Grand Final.
Our women's team, the Auburn GIANTS made the AFL Sydney Women's Division Two finals for the first time in their history. What an achievement by a group of predominantly young Muslim women who are doing Western Sydney proud.
The Macarthur GIANTS finished fourth in AFL Sydney's U/19 Division Two while fellow-NSW side, the Bathurst GIANTS, had an outstanding year with the U/15 winning their premiership and U/12 Orange finishing runners up.
The Korumburra Bena GIANTS in the Alberton Football Netball League in Victoria had an amazing season with the U/11 finishing runners up, the U/15, U/18 and seniors all making finals and the reserves winning the premiership.
The North Brunswick GIANTS, also in Victoria, had great success too with their U/10 side finishing premiers and the U/12s runners up.
In the off-season, more clubs have changed their name to the GIANTS and will be wearing our colours for 2015 and beyond.
GIANTS Community Clubs
Auburn GIANTS (NSW)
Concord GIANTS (NSW)
Macarthur GIANTS (NSW)
Griffith GIANTS (NSW)
Manly GIANTS (NSW)
Bathurst GIANTS (NSW)
Broulee-Moruya GIANTS (NSW)
Gungahlin Lakes GIANTS (ACT)
East Coast GIANTS (TAS)
North Brunswick GIANTS (VIC)
Korumburra Bena GIANTS Football Netball Club (VIC)
Dartmoor GIANTS (VIC)
Greater Western Suburbs GIANTS (QLD)
Galiwinku GIANTS (NT)
Barkly GIANTS (NT)
Kwila Gulf GIANTS (PNG)
South East London GIANTS (ENG)
Indianapolis GIANTS (USA)
Skane GIANTS (SWE)
Zaprude GIANTS (CRO)
North Leinster GIANTS (IRE)
Greater Glasgow GIANTS (SCO)
If your club would like to become involved with the GIANTS, please contact Lauren Francis at lauren.francis@gwsgiants.com.au
Until then enjoy your footy and go the GIANTS!
Kevin Sheedy
You can also read WFN's interview with Kevin earlier in the year: Kevin Sheedy – A (brief) World View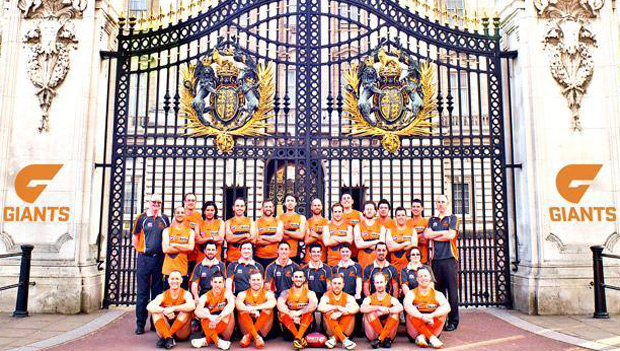 The SE London GIANTS