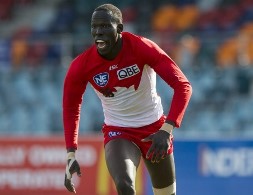 The following extract from an article by John Tuxworth in The Canberra Times looks briefly at the journey and rise of Aliir Aliir, the second Sudanese footballer to reach the list of an AFL club.
To read to full John Tuxworth story, go to: http://www.canberratimes.com.au/afl/sydney-swans/from-refugee-camp-to-sharing-locker-room-with-adam-goodes-for-aliir-aliir-20150613-ghn6ci.html[*1]
When Aliir Aliir was growing up in a Kenyan refugee camp, he wouldn't have dreamed he'd eventually have a lockerroom beside the great Adam Goodes.
The Sudanese 20-year-old took another step toward his AFL dream with a strong display for the Sydney Swans reserves in a 14.17 (101) to 5.6 (36) NEAFL win over Eastlake at Manuka Oval on Saturday. 
Athletic and with good skills at ground level that bely his 196-centimetre frame, Aliir grew up playing soccer but moved to Australia with his family as refugees in 2003.
Aliir caught the Australian Rules bug attending school in Brisbane and was taken at pick 44 by the Swans in the 2013 National Draft.
He is the second player of Sudanese descent to be drafted into the AFL, after North Melbourne's Majak Daw, who has played 14 games for the Roos.
"I have a chat to Majak every now and then and he's been really good to me, leading up to my under-18s he was able to help me out a lot," Aliir said.
"We went to Kenya when I was pretty young and I only played soccer, I didn't pick up footy until I was in high school and it's turned out pretty good.
"I was just a kid so I don't remember too much [about the refugee camp], all I remember is running around and playing sport, being a normal kid."
Aliir said it was surreal to go from that upbringing to being picked up by the Swans, whom he grew up supporting.
It was definitely unreal. I was a Swans supporter and [former Swan] Mick O'Loughlin coaching me [at the AIS].
"Goodesy's locker is next to mine and he's definitely a guy to look up to, he has a lot of knowledge and I try and pick his brain every now and then.
"He's a great role model."