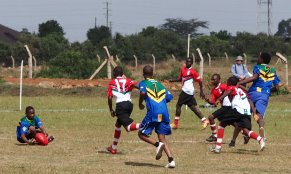 Last year an historic football match took place in Kenya, with a team representing the host nation to play a visiting team from neighbouring Tanzania. The story from that initial match was published on World Footy News as Buffalo soldiers: Kenyans beat Tanzanians in historic match and followed the incredible work of Tom Purcell  who after a huge effort brought together two East African nations to play an international Australian Rules football match in suburban Nairobi.
Now it is the turn of the Tanzanian team to host their own piece of history with an Australian Rules football match on the home soil. In a first for the game, Tanzania will become an Australian Rules football nation as our game spreads its tentacles farther and wider.
The following story by Conor Walsh for the AFL's  own website (www.afl.com[*1] ) looks at the upcoming match and further details the work of Tom Purcell and the work of the Zimele program.
TANZANIA and Kenya are not normally heard of in a football context, but Melbourne educator Tom Purcell wants to change that.
Purcell, a former senior teacher at St Kevin's College in Melbourne and now head of outreach at Trinity Grammar, is no stranger to football in east Africa, having last year organised the first ever international Australian football match in the continent.
The match between Kenya and Tanzania was the highlight of Purcell's long-term vision to host a sporting exchange in Africa and expand on his work with Zimele, founded in 2008 to support communities in Africa in partnership with the Edmund Rice Foundation.
Zimele's most prominent annual event is the "immersion" when Purcell takes a group made up predominantly of students from Melbourne to South Africa, Kenya and Tanzania. Its purpose is to allow people to become enriched in African culture, strengthen international relationships and support those in need.
Participants visit the beneficiaries of Zimele's programs in schools, medical facilities, juvenile detention centres and local slums, providing a broader perspective on the world and driving people to develop further initiatives.
During these immersions, Purcell and the supporters of Zimele were able to witness the strength, positivity, determination and overwhelming athletic ability of the children in east Africa. And from the evidence gained from simple kick-to-kick sessions and scratch matches, the Zimele Sporting Exchange was born.
Last year's exchange was held at the Brother Beausang School in Embulbul, a tight-knit community on the outskirts of Nairobi, Kenya. Fifty-six students from Sinon College in Arusha, Tanzania, travelled to Embulbul to engage in the successful exchange with the local children.
I was lucky enough to visit both schools in 2013, and had the privilege to play our game in scratch-match form alongside the local boys, and I couldn't have been more impressed. Their ability to pick up the game, its unusual rules and foreign skills with precision was nothing short of amazing.
Their athleticism is acknowledged worldwide, with outstanding endurance, blistering speed and ruthless tackling prominent features of the games they play.
This year's two-day sporting and cultural exchange will take place on July 6 and 7 at Sinon College, and will include netball, volleyball, public speaking and debating competitions to support the main drawcard, the Australian football match.
The match will mark an historic first Australian football clash in Tanzania, which is set to be a highly contested affair. Last year, Brother Beausang's Kenya Buffaloes launched a last-quarter fightback to defeat the Tanzanian Sinon Simbas by a single point, a result the Tanzanians are determined to reverse.
I will be travelling to Africa, covering the game and viewing what will undoubtedly be outstanding talent. The game and exchange will once again unify the different cultures of Kenya, Tanzania and Australia in a way that only sport can.
The advertisement of our game in Africa, and the attention it will gather in Australia for those in need in these communities through the work of Zimele, is clearly invaluable.
The future of African footy is looking bright thanks to the tireless efforts of Purcell, and its progression to the shores of Australia seems assured. Perhaps one day the AFL community will be lucky enough to see the talent of these brilliant players on Australian soil.
The sporting exchange is funded solely by donations, with Zimele forwarding all money toward the needs of the program and the African people. To learn more about Zimele or to donate to the exchange, visit http://www.zimele.org.
Conor Walsh is a Melbourne sport journalism student and supporter of Zimele
Picture: Kenya v Tanzania 2014 (Courtesy - Zimele)