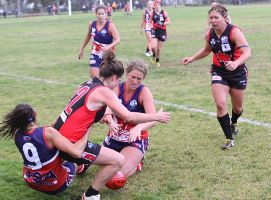 As women's footy continues to grow and head towards a national league, a significant announcement for women's footy was made today revealing that AFL Victoria plans to establish a women's state league competition in 2016.

The new competition will be aligned with the Victorian Football League (VFL), featuring 10 clubs, with the six Victorian Women's Football League (VWFL) Premier Division teams from 2015 – Darebin Falcons, Diamond Creek, Eastern Devils, Melbourne Uni, St Kilda and VU Western Spurs – to be joined by the top four Division 1 sides – Cranbourne, Geelong, Knox and Seaford.

AFL Victoria believes the time is right for a dedicated state league, with the 10 clubs all geographically spread across Melbourne and featuring a wealth of talent.

"This is the starting point for something really exciting in women's football," AFL Victoria CEO Steven Reaper said. "By developing a women's state league competition from current VWFL clubs we will be able to utilise already established playing squads, grounds and support staff, and it will also assist with player retention.

"It means the state competition will be able to help develop talent across Melbourne and into some country regions in the future."

By aligning the naming of women's state league with the VFL competition, including its website and social media channels, the aim is to help grow the audience in its infancy - utilising the VFL fan base to expose more people to the high quality of women's football.

"This will be the first step in establishing a professional women's state league competition in Victoria, but it will take time to mirror all aspects of the men's league," Reaper said.

"With the AFL national women's competition on the horizon, we need to provide the best standard competition for these players, and a dedicated state league for women will help set that benchmark, providing a much needed next step in the female talent pathway.

"73 of the 109 players invited to the new AFL Victoria Women's Football Academy that started last Sunday are from the 10 proposed state league teams, highlighting the depth of talent that will be on show."

The official name of the women's state league competition is set to be decided in coming months, along with the season length and finals format which will be confirmed during the fixture process.

The VWFL will remain in its current divisional structure (Premier, Division 1 etc), with the 10 state league clubs to continue to field their second and third teams in that competition.

The league has seen rapid growth in recent years, jumping from 27 clubs and 34 teams in 2013 to 36 clubs and 50 teams in 2015.

"This growth and development of the VWFL competition means a women's state league in Victoria will now be a reality," Reaper said.