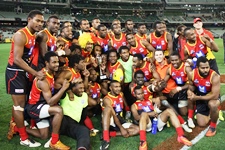 The AFL International Cup is the pinnacle event on the Australian Football international calendar and has grown steadily in stature and standard. Despite financial considerations limiting numbers, participation is greater than some other football world cups, yet the IC profile remains low.
With this in mind I have started an electronic petition for the SBS to broadcast the IC. It is an ideal event for the SBS as it fulfills all its charter points. The IC is multi-cultural, multi-lingual, entertaining, educational and advances the spirit of world friendship. Without jumping too far ahead, any lift in the profile of the IC will produce direct and indirect benefits for the competition. Those benefits in all probability will be small at first but it is the "foot-in-the-door" to leverage the future.
Currently there has great response from individuals at https://goo.gl/GwnmAK[*1] but I need organisations to promote this petition to achieve the "reach" simply by sharing WFN's facebook post.
I have watched the growth and development of Australian Football around the world for quarter of a century. Leagues, clubs and individuals have battled hard to spread the word in their part of the land, but it has been my contention that the biggest barrier to assistance is the lack of knowledge on Australian's behalf.
Put simply, if Australians knew more about football overseas, then there'd be more interest and interest more than ever has a monetary value. It originated as coins paid at the turnstiles, then television advertising revenue, sponsorship deals, assorted grants and now has many internet variations.
Internationally, the Australian media's sole focus is on overseas players making the grade in the AFL. Hopefully this petition will change the public and media perceptions similar to the AFL taking insight from the success of televised national women's matches.