With the AFL season drawing to an end tomorrow, so too have been many regional and suburban leagues and, also, near by international leagues. The 2016 AFL Fiji mens season wrapped up on Saturday with the Raiwaqa Cooparoos taking on the West Coast Eagles at Albert Park in Suva.
The Suva based Cooparoos (Roos) won 14.7.91 to 10.11.71. Best on ground was the Roos captain Juita Vateitei, who is also a Fiji national volleyball representative who attributes footy as assisting his development in that game too.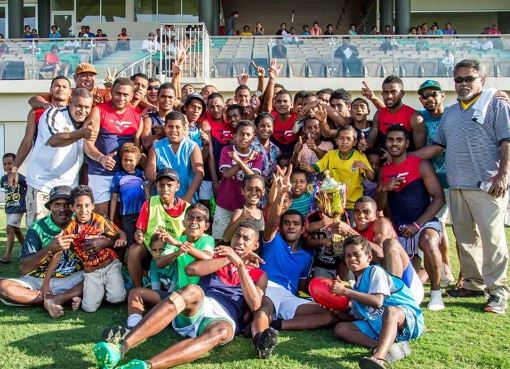 The victorious Cooparoos.
Pre game the Fijitimes reported[*1] AFL Fiji coach Simon Highfield (also AFL Fiji Development officer) predicting a clash of two very different styles with the more experienced Eagles likely to employ a more physical style compared to the less experienced Cooparoos who were more likely to run and seek the open spaces.
The FijiSun reported[*2] the result and quoted Roos playing coach Maciu Raida who showed his understanding of the pioneering work still being undertaken in Fiji: "This sport is not that big in the country but as you can see a lot of people came out to watch and hopefully they found it exciting enough to want to learn how to play the game."
Raida was proud of his side: "...the boys handled the ball well and kept cool under pressure and just played the game and that is what brough us the win. Our preparations leading up the finals went really well and we are thankful to the supporters who came out to give the boys an extra boost to help us win."
Eagles coach Eroni Kakaivalu admitted the Cooparoos were better prepared on the day and thanked God for the good game.
The grand final provided a 'big stage' to assist AFL Fiji in selecting players likely to represent Fiji in next years AFL International Cup in Melbourne. Highfield has reported that many of the best players have been first year players showing that good talent continues to be attracted to take up the game.
The Roos had won their way through to the decider via a comprehensive win over the Lion Killas (17.10.112 to 4.7.31) the prior week. The Eagles pathway was much tougher, decided by a post siren goal after a mark on the line with a narrow 13.14.92 to 12.15.87 victory.
Special note must be made of the increasing coverage on Fiji One TV News bulletins with reporting, footage and interviews helping to raise the profile of the matches, the game in general and upcoming events including next years International Cup.
Images below were taken by Samuela Ulacake and shared via AFL Fiji where many more can be viewed: