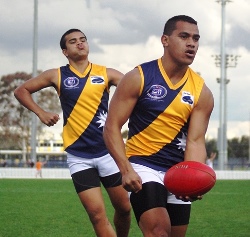 The selection of the best players from the AFL Nauru 2016 season have touched down in Brisbane ahead of their first match against the Zillmere Eagles tomorrow night (17th February kickoff at 6.30pm).
The team will then travel to Bendigo, Victoria and play against Strathfieldsaye Storm on Tuesday 21 February (also a 6.30pm start) at the Storm's home ground.
The tour should serve as a good warm up to footy in Aussie conditions ahead of the 2017 AFL International Cup in August which will be held in Melbourne. Nauru finished 7th at the 2014 International Cup and are currently ranked 5th in our unofficial World Rankings[*1] .
The team are sponsored by the Bendigo Bank, the Ministry of Sports, Digicel and Nauru Airlines. The team as named in September can be seen below.
FULLBACK David Japheth Adeang[*2] (Cats)
BACK POCKETS Kingston Ika (Bombers) & Devine Agir[*3] (Bulldogs)
CENTER HALFBACK Jose Jazzlē Uepa[*4] (Bulldogs)
BACK FLANKS Ishmael Fritz[*5] (Hawks) & Mick Vorbach (Bombers)...
CENTER Mallinson Batsiua[*6] (Magpies)
WINGS Niga Haulangi[*7] (Bulldogs) & Pilo Dagiaro[*8] (Cats)
CENTER HALF FORWARD Joeson Kanimea[*9] (Kangaroos)
FWD FLANKS Snuka Adire[*10] (Bulldogs) & Tipung Kamtaura (Cats)
FULL FORWARD Bronco Deidenang (Kangaroos)
FWD POCKETS Bremoki Maaki[*11] (Bombers) & Aykers Daniel[*12] (Dogs)
RUCK Tiana Waidubu[*13] (Cats)
RUCK ROVER Charles Dagiaro[*14] (Kangaroos)
ROVER German Grundler[*15] (Bombers)
INTERCHANGE Patrick Agadio (Bulldogs), Lennox Agege (Bulldogs), Agir Nenabo Amwano[*16] (Bombers), Maverick Batsiua[*17] (Hawks), Johnny Dagiaro[*18] (Bombers), Dave Mwaredaga (Kangaroos), Kake Deiye (Hawks), Bagewa Detudamo[*19] (Magpies), Darnel Diema[*20] (Hawks), Yoshi Harris[*21] (Magpies), Mikey Hiram[*22] (Kangaroos), Jencke Jeremiah[*23] (Hawks), Jeremiah Kam (Hawks), Shawn Kemp Maaki (Cats), Kaison Tatum (Bombers), Zac Temaki (Cats), Jeruka Temaki (Kangaroos)
COACH Jaxon Jeremiah
ASST COACH Bannon Canon