With the 2017 AFL Queensland U/16 tournament getting under way last Sunday - this weeks only mid week match saw the South Pacific squad make it's first appearance against the strong North Queensland side. The South Pacific lads arrived Tuesday morning and were straight into a training session to try to 'gell' before the game the next day.
The venue was Burpengary, a northern suburb of Brisbane overlooking Moreton Bay and also home to a recently developed AFL facility including 3 playing fields. As it was yesterday - from 1 pm the venue played host to the South Pacific side. However - the task was too great and the inability to finish off their hard work saw North QLD able to set up play after play rebounding from defence.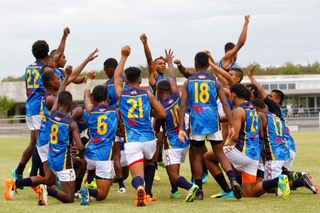 The South Pacific hierarchy were pleased with the number of scoring opportunities generated, and with more polish then greater scoreboard impact can be achieved. The tackling and pressure acts were superb and showed no lack of intent.
The following notes are provided by AFL South Pacific Development Manager Ben Drew: Carl Kaiyage stood very tall after ¼ time at Full back on a much bigger opponent, Woewodin patrolled half forward setting up many forward attacks and after half time, Inesi Ahomanna & Jone Radua dominated the hit outs. Hawago was a standout across halfback and in the middle with Xavier & Yatom also having great games.
Final Score: North QLD 15 14 (104)South Pac 4 1 (25)
Goal Kickers: Gerard Fungke, Balthasar Talania, Kevan Chan, Woewodin Thoma Best Players: Hewago Oea, Jone Radua, Xavier Kombong, Carl Kaiyage, Yatom Werner, Inesi Ahomana, Joe Yamog, Karl Hartman
The next match is this Saturday at Burpengary against Brisbane South - first bounce 2:20 pm. Both teams will be looking for their first win and the South Pacific lads will be hoping to get some more reward for their hard work.