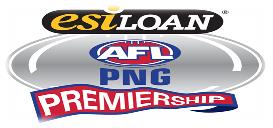 Women's footy in Port Moresby is up and running for 2017 and The Gerehu Magpies are leading the way being unbeaten after three rounds. All five teams in the competition have had at least four points (Oilmin Kokofas four points thanks to the bye).
On the weekend the Magpies had a 41 point win over Concept Koboni. The Cats had their first win of the season with a 29 point win over the Oilmin Kokofas. The Lamana Dockers had the bye in the five team competition.
The full results for the season so far and the current ladder are below.
2017 esiLoan AFL PREMIERSHIP SEASON - PORT MORESBY - WOMENS DIVISION
Results
Round 1 I Saturday April 22 I COLTS Oval I Port Moresby
Concept Koboni 10.15.75 def Lamana Dockers 0.1.1
Round 1 I Sunday April 23 I COLTS Oval I Port Moresby
Gerehu Magpies 7.5.47 def Cats 0.0.0
BYE: Oilmin KOKOFAS
Round 2 I Saturday April 29 I COLTS Oval I Port Moresby
Lamana Dockers 2.2.14 def CATS 1.2.8
Round 2 I Sunday April 30 I COLTS Oval I Port Moresby
Gerehu Magpies 6.6.42 def Oilmin Kokofas 0.0.0
BYE: Concept KOBONI
Round 3 I Saturday 6th May I COLTS Oval I Port Moresby
Gerehu Magpies 7.5.47 def Concept Koboni 1.0.6
Round 3 I Saturday 7th May I COLTS Oval I Port Moresby
Cats 4.7.31 def Oilmin Kokofas 0.2.2
BYE: Lamana Dockers
Ladder after Round 3
| Placing | Teams | P | W | L | D | F | A | % | Points |
| --- | --- | --- | --- | --- | --- | --- | --- | --- | --- |
| 1 | GEREHU MAGPIES | 3 | 3 | 0 | 0 | 136 | 7 | 1,943 | 12 |
| 2 | CONCEPT KOBONI | 3 | 2 | 1 | 0 | 81 | 48 | 169 | 8 |
| 3 | LAMANA DOCKERS | 3 | 2 | 1 | 0 | 15 | 83 | 18 | 8 |
| 4 | OILMIN KOKOFAS | 3 | 1 | 2 | 0 | 2 | 2 | 100 | 4 |
| 5 | CATS | 3 | 1 | 2 | 0 | 40 | 63 | 63 | 4 |