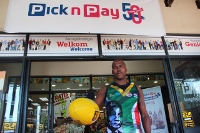 Journalist Wouter Pienaar has reported recently in the Potchefstroom Herald about the exploits of South African footballer, Godfrey Molohlanyi, and his journey towards the 2017 International Cup in Melbourne.
Finding an Aussie Rules Football player in Potchefstroom is almost like finding a needle in a haystack. And, if that player is also representing South Africa in the Australian Football International Cup then you know you have discovered something unique. 
Godfrey Molohlanyi is a South African Aussie Rules Football player from Ventersdorp. He is currently employed at Pick n Pay Vanderhoff Park in Potch where he works as a merchandiser by day.  
Godfrey Molohlanyi packs merchandise at Pick n Pay Vanderhoff Park by day and, after hours, he plays Aussie Rules Football for South Africa.
 By night, he practises his beloved sport for the Wild Cats Aussie Rules Football team at the Mohadin Cricket Grounds. 
From 5-19 August, Godfrey will represent South Africa in Melbourne, Australia in this international competition for the second time, having been part of a previous World Tournament in 2008. 
'I started playing in 2004 when I met Sipho Mabongo. He introduced me to Aussie Football in Ventersdorp as part of an awareness initiative. He explained the rules and I started practising from there. I really enjoyed it,' he remembers. 
In Aussie Rules Football there are 18 players per team with four goalposts. It is played on an oval ground with the main aim of scoring goals by kicking the ball between the posts. Think of it as a strange marriage between rugby, football and basketball with a distinct Aussie flair. 
Godfrey has played eight games for South Africa in the past and he will look to make his mark as a centre-half forward in this tournament. This is one of the most physically demanding positions as Godfrey has to be able to catch from long distances (mark) and kick the ball accurately out of hand. 
'The sport has taught me a range of skills, such as catching, bouncing, running and kicking.
'It is also a high contact sport so you have to be fit and strong to play. I practise once or twice a day, often jogging early in the morning and working on skills at practice after work,' he says. 
'It is the ultimate high to be able to represent your country. 
There is nothing like it. South Africa has been doing well at Aussie Football and we are going to push for a win after coming fifth in 2014,' says Godfrey in his rainbow coloured national jersey. 
Pick n Pay Vanderhoff Park has sponsored and assisted Godfrey with his visa requirements and wishes him all the best for the coming world championships.
The original article can be viewed at: http://potchefstroomherald.co.za/34657/pick-n-pays-godfrey-making-waves-aussie-rules-footballer/[*1]