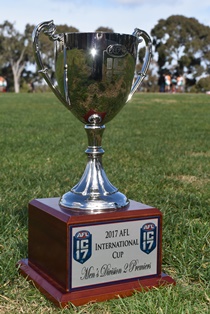 The German Eagles and Croatian Knights tomorrow will meet in the GF of the men's Division 2. In their first IC appearances, both the Eagles and Knights have impressed, losing only one game each - the Croatians against China in a slow start to Round 1, and the Germans to Japan in the final group round.
The Semis saw both sides dominate, the Croatians running away with what was ultimately an easy win over Japan, and the Germans eventually pulling away from China in a match which had started evenly.
It adds up to a match where the result go easily go either way.
Both sides have held an enormous relative height advantage over their opponents - each having numerous players over 190cm. For Croatia, Josip Habljak of SANFL club Sturt has controlled play from the centre, creating numerous opportunities for teammates while kicking 8 goals for the tournament himself.
Tomislav Cvetko and Ivan Ivoš have also created huge problems for opposition sides, both using their imposing height to create targets up forward and nail big scores. Ivoš is currently leading the goalkicking for the division, with 12 in the four matches to date, followed by Cvetko with 8 of his own.
Another key player to watch will be Josip Kravar, who had also been dangerous around goal over the past two weeks.
However, Germany will be the first opposition side the Croatians have faced where they don't have a size advantage overall.
Also - crucially - the Germans have consistently had around 8 or 9 playmakers sharing the load, making it hard to change the game by eliminating a single player.
Jakob Jung has starred all tournament for the Eagles, as have Martin Schuetoff and Melbourne resident Philipp Evermann. If there is a suggestion that the Croatian talls will trouble them, Constantin Pixa (199cm) from Frankfurt has been impressed as an attacking ruckman, as has Fabian Cordts (205cm).
Also though, besides the players already listed, the Germans arguably have a broader range of forward line options than Croatia do. Strike forward Jan Hüsken will be a key forward line component in the German system, as will captain Florian Naumann and Melbourne-resident Phillip Evermann.
The verdict:
This match is really almost too close to call. Two very similar sides, with similar styles. The difference may ultimately be the huge intensity the Croatians bring to the field, which could wear down the running Germans. Our tip - Croatia by 10 points.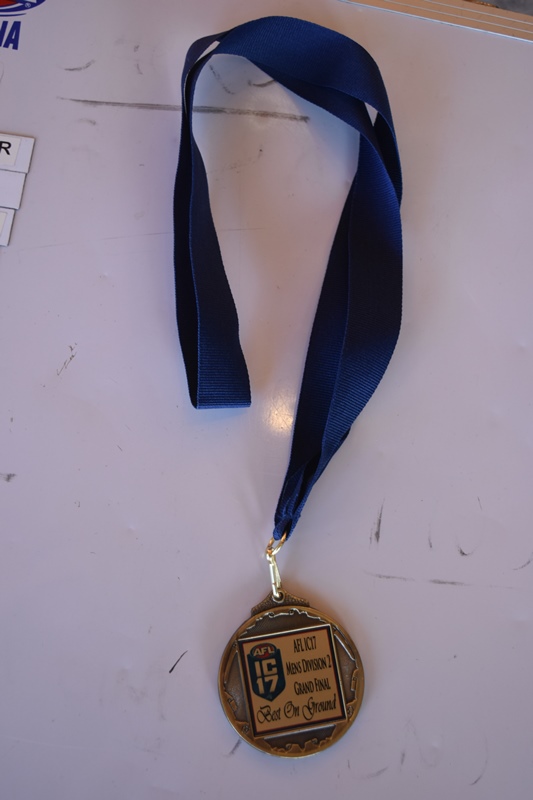 The Best on Ground Medal