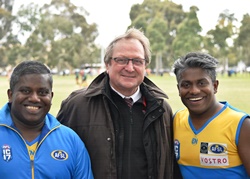 Australian Football Sri Lanka continues to forge forward to build the game in Sri Lanka following their debut at 2017 AFL International Cup in Melbourne.
The Fonseka brothers (the founders of AFSL pictured with Kevin Sheedy) will be heading to Sri Lanka in near future to to promote the game within rugby clubs, schools, etc., to begin the recruiting process for upcoming tournaments around Asia and the IC20 to be again be held in Melbourne, Australia in August 2020.
Additionally Australian Football Sri Lanka will have Australian based players competing against the
Bharat Football Club
[*2] in Melbourne in an Anzac Day clash. The Bharat Football club formed in Melbourne last year to bind "the Indian community of Australia to footy".
To be played on the 24th of April the match will be the inaugural Anzac Day clash between the two sides. Both teams hope this will become an annual fixture.
Plans are also in the works for an annual national tournament in Sri Lanka taking place each October with the hopes that AFL players and other footy fanatics will take part in a sporting and cultural tour to the island nation.