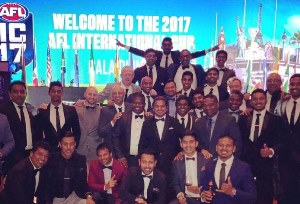 When the team was first forming for the 2017 International Cup Anslam Diaz as proud Sri Lankan expat in Australia was excited to the he might be able to play for Sri Lanka. But eventually as the rules were understood as to eligibility it became clear Anslam would not qualify as he lived majority of his life in Australia.
He was obviously disappointed he couldn't play, but that did not stop him taking part. He was at almost every training session of the Australian based players in the lead up to IC17. He found the team sponsorship, he ran water and he was the runner for all of Sri Lanka's IC17 matches.
Diaz is pictured at the top of the photo above
He took days off work to be part of the team even though he couldn't play. His enthusiasm was clear to anyone who saw him around the team, he didn't walk water out to his thirsty mates, he always ran the water. He even arranged champagne when for the team celebrations when the nation won their first International Cup match.
We received news today that Anslam met with a car accident couple of weeks ago and is in an induced coma at the Alfred Hospital in Melbourne. His Sri Lankan team mates are shocked and deeply concerned for Anlslam and hoping for a positive outcome for the man who gave them all so much support at IC17.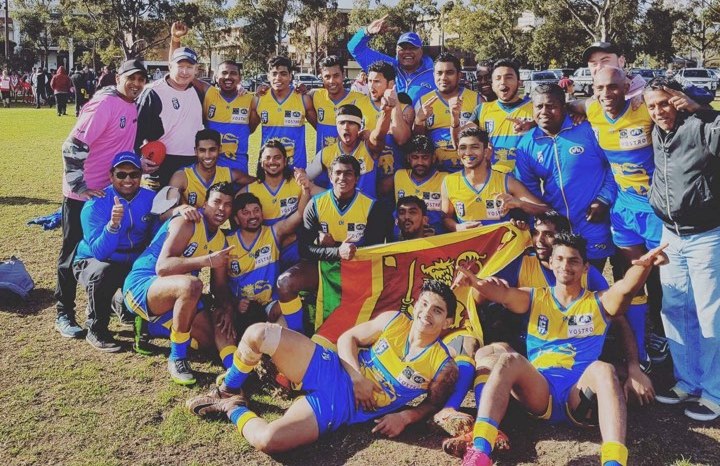 Diaz pictured above as he was in all the matches in the pink runners top during last year's IC17 tournament.
Prabath Fonseka from Australian Football Sri Lanka told us "he was the ideal team man , instead of walking out when he couldn't qualify he did the team thing - raised funds , got sponsors on board , took time off from work to run water etc. I really hope in a week or two he'll be able to do what he does the best - join our team and train to play in the Anzac Day game against India. Get well soon brother"
At the moment all the Australian based Sri Lankan players are arranging times with his family to visit him. He has a very young family and support and recognition from AFSL , footy around the world and World Footy News readers will be appreciated by his family members and Anslam him self.
From all of us at WFN we are thinking of Anslam, his family and his footy mates and hoping for a quick recovery. Please add you well wishes in the comments below, on our Facebook Group[*2] or directly to AFSL[*1] .