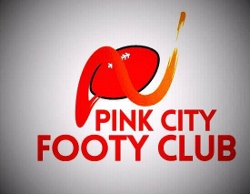 Sometimes you just have to admire the tenacity of some footy clubs. Even when obstacles seem to be insurmountable, the Pink City Footy Club in Jaipur continued to find ways to develop – with or without equipment, money, supporters or things that most clubs would consider "givens". What the Pink City club has in spades, however, is tenacity and a genuine love of Australian Rules football.

When the club received a set of footballs from Australian club, Pyramid Power, a couple of years ago, they were practising in a creek bed. Due to the unique terrain in which they were training (sand, rocks, broken branches) the footballs lasted about six weeks before needing to be replaced due, mainly, to punctures or other premature deaths.

But D'Costa David is a young man with a vision. He wants his beloved Pink City team, based in Jaipur, India, to reach the national level. He has watched the growth of the game across India with joy, and especially the Jaipur-based over-arching team – the Rajasthan Eagles.

D,costa is determined that Jaipur be a permanent part of the Indian Australian Rules football landscape at both junior and senior levels. In trying to achieve that goal, 2018 will see the city and the team be a part of the Mumbai Footy itinerary, in association with Reclink India, as a part of a footy journey that spends two days visiting schools in Jaipur that have incorporated the game into their programs. This is prior to the carnival in Mumbai which will see teams from across India compete.

Prior to that, D'costa is hoping to have a local carnival in Jaipur in July. Whilst nothing is confirmed, and so far the carnival is being organised outside the banner of AFL India, D'costa is hoping to attract enough teams and players to Jaipur to hopefully showcase the local talent. When Pink City started as a team and club there were just five players. Now there are approximately 80-90 players taking up the game. Previously two junior teams from Jaipur (Rajasthan Eagles) competed at national level. This latest carnival is a chance for the first senior players to represent the city of Jaipur and the state of Rajasthan.

To make this happen, the Pink City football club needs help in terms of financing and promotion. D'costa is keen to hear from anyone that might be able to help this dream come true. To contact, go to the club's Facebook page at: https://m.facebook.com/pinkcityfootyclub[*1] or even send them an email at: pinkcityfootyclub@gmail.com (D'costa can be contacted personally at dicosta8888@gmail.com ).

There is long road ahead of the Pink City footy club, and they will one day need to come fully under the banner of national affiliations. But what they have achieved to date is impressive and a credit to the collective determination of D'costa David and his fellow players. One day the Pink City/Rajasthan Eagles team/s will be a force in Indian footy – largely because of their never-say-die attitude to date.

As a next step we hope that the proposed carnival in Jaipur can go ahead and build a bridge to the next level of national football in India.