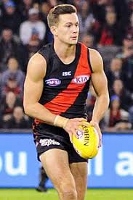 The AFL community is stunned by the announcement today that Essendon's Irish speedster, Conor McKenna, has tested positive to the coronavirus. Details are still sketchy, with further medical investigation and contact research to occur, but AFL CEO Gillon McLachlan announced today that tomorrow's Essendon v Melbourne match will be postponed.

The precaution is in line with the AFL's COVID-19 protocols, with a postponement decision meaning that the match can potentially be played mid-week later in the season. Shorter quarters were brought in by the AFL to lessen the playing load on players in the event that postponements did occur, which is now the case.

Initial fears that McKenna brought the disease with him from overseas, after returning home to Ireland just a few weeks ago, have been allayed somewhat. McLachlan stated that McKenna tested negative last Wednesday, showed a "low grade irregularity" on Friday and a positive this morning. This would indicate that he may have contracted the disease since returning to Australia.

McKenna did not train with Essendon this morning, despite arriving at the club. He was sent for further tests which unearthed a positive result. The entire club is now shut down until further investigation by relevant health authorities. Earlier this year, the AFL announced that any club found with a positive player finding to coronavirus would face a 30 day shutdown. That is eased, but players and officials at Essendon could face a mandatory 14 day isolation period, hence the match postponement tomorrow.

It is also unclear as to how this finding will impact the rest of the AFL competition. Whilst McLachlan announced today that all other fixtures this weekend and beyond will go ahead, there will clearly be potential for further action depending on findings.

According to McLachlan, "Other matches will proceed. All Essendon players and staff were tested last night and Conor McKenna was the only player who returned a positive test, despite being asymptomatic."

"The club will be closed and cleaned. We will test all players and staff in coming days, with advice from the health department. Our concern is with the player and we will provide support around him."

McKenna will be watched closely, not just for COVID-19 symptoms but also for his emotional and mental state as he no becomes the first, but likely not the last, AFL to succumb to the disease. He has had a well-documented issue with homesickness and this latest situation will not help his emotional state.

The AFL will continue to be advised by health authorities over coming days and make further decisions based on that advice.