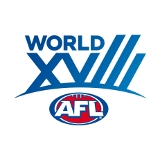 This year's edition of the World XVIII youth side has been released. The side of 14 to 18 year olds will compete in the NAB AFL Under 16 Championships Division Two, alongside fellow internationals the South Pacific[*1] and Australian states/territories NSW/ACT, Queensland, Tasmania and Northern Territory. Due to scheduling and concessions the two international sides will play one game less than their Aussie counterparts but the event will still be invaluable in exposing world talent to scouts and what is required to take their game to the next level.
As per 2010 the side will feature true internationals nominated by the AFL's international affiliates and be strengthened by Australian-based talent with recent multicultural backgrounds. Perhaps one disappointment is that the number of players from the affiliates is down from 18 to 12 this year. It's a reminder that whilst junior development is on a tremendous surge in the South Pacific the game is not quite so advanced in the Northern Hemisphere. A strong feature of the 2011 squad is a number of tall immigrants of North African descent.
This year's affiliates to provide players are Canada (4), South Africa (3), East Timor (2), USA (1), Scotland (1), Ireland (1). Notable absences are Denmark and England. The full World XVIII squad is listed below courtesy of Peter Romaniw, AFL Multicultural and International Coordinator .
The World XVIII will benefit from impeccable coaching and training. The team will come together on the 4th of July in Melbourne for a high performance camp under the leadership of head coach Chris Johnson (ex-Brisbane Lions) and assistant Michael Ablett (current VFL assistant at Sandringham and former AIS/AFL Academy graduate). The team will also be assisted by Brad Johnson (ex Western Bulldogs champion) and Michael O'Loughlin (ex Sydney Swan and current AIS/AFL high performance academy coach).
A number of current AFL Players were born outside of Australia, including Collingwood's Harry O'Brien (Brazil), Port Adelaide's David Rodan (Fiji), Brisbane's Pearce Hanley (Ireland) and Sydney Swans Tadhg Kennelly (Ireland). Perhaps one of these young men will be the first to learn the game overseas and then one day play AFL. Certainly the South Pacific surprised onlookers in 2010 with not just their athleticism but also genuine football skills. Both international sides begin on July 10th in Sydney.
World XVIII Team 2011
| Number | (Name/Surname) | D.O.B. | Ht. (cm) | Wt. (kg) | Country |
| --- | --- | --- | --- | --- | --- |
| 1 | Charles Irra | 15/06/1996 | 165cm | 60kg | Uganda/SA |
| 2 | Jason Silen | 7/08/1995 | 168cm | 55kg | Canada |
| 3 | Inacio Da Silva Amaral | 7/03/1993 | 168cm | 65kg | East Timor |
| 4 | Nishan Coyne | 13/11/1994 | 169cm | 63kg | Sri Lanka/VIC |
| 5 | Sikhulule Gamakhulu | 3/07/1992 | 168cm | 60kg | South Africa |
| 6 | Alex Jalloh | 5/10/1995 | 173cm | 65kg | Sierra Leone/NSW-ACT |
| 7 | Omar Abdallah | 15/05/1994 | 173cm | 74kg | Lebanon/VIC |
| 8 | Mohamed Saad | 21/06/1994 | 174cm | 76kg | Lebanon/VIC |
| 9 | Ayanda Moshoeshoe | 5/11/1996 | 174cm | 57kg | South Africa |
| 10 | Majok Aneet | 1/01/1993 | 175cm | 73kg | Sudan/VIC |
| 11 | Adam Saad | 23/07/1994 | 175cm | 69kg | Lebanon/VIC |
| 12 | Justin Ngudu | 15/05/1994 | 175cm | 76kg | Sudan/NSW |
| 13 | Keitumetse Molelle | 18/12/1994 | 176cm | 60kg | South Africa |
| 14 | Brennan Lew-Cooke | 31/03/1995 | 177cm | 71kg | Canada |
| 15 | Henry Peni | 10/021996&nbsp&nbsp&nbsp&nbsp | 178cm&nbsp&nbsp&nbsp&nbsp | 70kg&nbsp&nbsp&nbsp&nbsp | Samoa/VIC |
| 16 | Ring Majok | 26/08/1995 | 180cm | 68kg | Sudan/TAS |
| 17 | Basam Ajrish | 1/01/1994 | 180cm | 78kg | Syria/SA |
| 18 | Bradley Xavier | 16/09/1996 | 181cm | 67kg | India/VIC |
| 19 | Alex Tivy | 1/09/1993 | 183cm | 73kg | Canada |
| 20 | Sami Sir | 20/01/1996 | 183cm | 65kg | Turkey/New Zealand/VIC |
| 21 | Manuel Marsil Santos da Silva&nbsp&nbsp&nbsp | 25/06/1994 | - | - | East Timor |
| 22 | Dan Lanhane | 30/07/1993 | 187cm | 77kg | USA |
| 23 | MIki Masaki | 17/01/1994 | 187cm | 85kg | Japan/VIC |
| 24 | Jimmy Aganas | 30/04/1995 | 189cm | 72kg | Sudan/TAS |
| 25 | Tom Exton | 29/09/1993 | 190cm | 76kg | Scotland |
| 26 | Muris Bartley | 8/11/1992 | 190cm | 83kg | Ireland |
| 27 | Garang Lual | 15/01/1995 | 191cm | 65kg | Sudan/SA |
| 28 | Aliir Aliir | 5/09/1994 | 192cm | 82kg | Sudan/NSW |
| 29 | Abraham Kur | 31/07/1993 | 193cm | 73kg | Sudan/VIC |
| 30 | Anthony Daw | 9/09/1996 | 196cm | 72kg | Sudan/VIC |
| 35 | Darren Ledoux | 8/14/1993 | 198cm | 95kg | Canada |
Coach - Chris Johnson
Assistant Coach - Michael Ablett
Mentors - Brad Johnson and Michael O'Loughlin