Innovation in Tonga with Australian football and Rugby League alliance
Thursday, July 29 2004 @ 11:45 am ACST
Contributed by: Brett Northey
Views: 5,171

The Tongan Australian Football Association (TAFA) has announced a significant partnership with the local Rugby League association.
Both codes face daunting opposition from the dominant code of Rugby Union. This sport has a strong grip on the people of Tonga, and most towns and villages have at least one side, although, at least on the largest island of Tongatapu, you can find villages that have just a League side. Government funds are much more easy to come by if you are associated with Union, and as a result, TAFA has entered into a resource-sharing agreement with League, to maximise their limited resources.
This agreement includes the use of facilities, but also goes so far as to share the year. As of 2005, the League season will span January to June, and Australian football will run from July to December. Both codes will thus get a share of the dry and wet seasons, in this small but athletically gifted nation of approximately 100,000 people. A further 100,000 are estimated to live abroad, primarily in NZ, the US and Australia.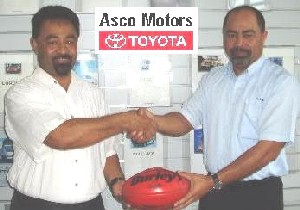 TAFA President Mr Siosi Tuipulotu (on the left in the picture) was quoted as saying that "TAFA believes that all sport is good for Tonga. There are many kids at all levels who are missing out on sport through lack of opportunity. TAFA will work together with any organisation that cares about youth development and the effect of sport on the community". Such an arrangement continues the trend set in other countries in which Australian football is in it's infancy, whereby footy has worked closely with small Union, League or Gaelic football communities.
More details can be found at the TAFA website.