Setanta Takes the Next Step
Sunday, August 01 2004 @ 05:02 am ACST
Contributed by: Brett Northey
Views: 8,270

Irishman Setanta O'hAilpin is on the rise for AFL club Carlton.
Several weeks ago, AFL club Carlton (based in Victoria, Australia) rewarded Irish rookie Setanta O'hAilpin (pictured) with promotion to their main list. Carlos, as he has been dubbed, was on Carlton's rookie list, which meant that he was tied to the club and able to train with them, but not yet eligible to play for their senior team. O'hAilpin had experienced a surge of improved form, booting 7 goals for Carlton's local VFL affiliate, the Northern Bullants. After a bye, he followed that up with a four goal effort.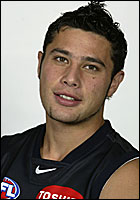 As Carlton had a full squad, there was no opportunity to promote O'hAilpin, but then Anthony Franchina was moved to their long-term injury list, suffering a fractured thumb, and this left the door open for the 21 year-old Irishman. His incredible rise from having no real Australian Rules football experience nine months ago is a credit to the young man of mixed Irish and Fijian descent. It also stands as an inspiration to players around the world and indeed within Australia.
Whilst undeniably an outstanding athlete, what has impressed Carlton's senior coach Denis Pagan, and Setanta's team-mates, is the County Cork recruit's incredible work ethic. Of O'hAilpin's promotion Pagan said "This is an incredible effort by Setanta, in fact considering his background he has no right to have made such remarkable progress in such a short space of time. His work ethic is outstanding and there is no doubt he will see this as another challenge in his desire to make it in the AFL". The next task for Setanta is to make not just Carlton's senior list, but their onfield team. There was talk that his official debut could have come as early as Round 11 versus Adelaide at AAMI Stadium in South Australia. However Setanta was forced to wait, and then suffered an injury (more on this in a later update). Hopefully he will return for an AFL debut before the season is out.
Photo courtesy of
Carlton's official website.