Big Stage for Denver and Vancouver
Monday, August 02 2004 @ 11:10 am ACST
Contributed by: Brett Northey
Views: 6,172

The Denver Bulldogs and Vancouver Cougars have organised half time demonstrations of footy at major sporting events.
One of the major difficulties in developing Australian football outside of Australia is getting people to see the game in the first place. Two clubs have recently pulled off promotional coups by being allowed to stage brief footy demonstration matches at half time of two big sporting matches.
The Denver Bulldogs played in front of 13,000 fans at half time of the Colorado Rapids vs L.A. Galaxy soccer match at Invesco Field (pictured). Reports are that plenty of people were impressed and the Denver club is hoping to follow up with more demonstrations or possibly even a full match as a curtain raiser. A full report with more photos can be found at the Denver Bulldogs website.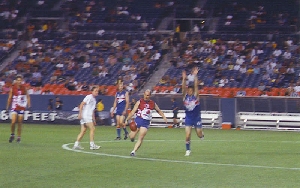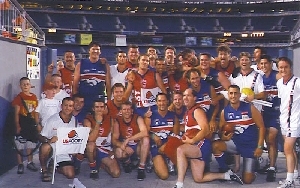 Photos courtesy of Denver Bulldogs and Marianne Ellis
A little further northwest, up in Canada, the Vancouver Cougars have arranged a similar Australian Rules football demonstration, scheduled to take place at half time of the BC Lions versus Montreal Alouettes Canadian Football League match, at BC Place. Canadian Football is very similar to American Football, and one of the premier sports in Canada. Check out the story via their homepage