PNG pathways to the AFL
Thursday, August 05 2004 @ 05:10 am ACST
Contributed by: Brett Northey
Views: 8,517

AFL Queensland is working with AFL PNG to give talented young Papuan's a pathway through to senior AFL level in Australia. The following is an edited version of an update on junior Australian football in Papua New Guinea, by Jaive Smare.
If there is one sport in PNG that has vision extending from the bottom up into its future heights, it is Aussie Rules. We recently saw the beginning of the AFL season across the country and what a way to start with the Binatangs hitting it up right to the final in the Under 16 Queensland Country Tournament in Mackay, and young team captain Anaga Isaac named as the player of the tournament. (Binatang means small bug or beetle, and is the affectionate name given to the PNG underage football teams.)
Australian Rules football has been played in PNG since the 1950's but in recent years thanks to the efforts of AFL officials in PNG and Australia, as well as a legion of volunteers in the country (and outside) the game is firmly entrenching itself on Papua New Guinean soil. It is also becoming a possible breeding ground for future AFL stars such as the Brisbane Lion's Mal Michael (whose father is still involved with PNG football).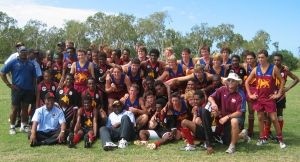 Pictured are the Binatangs team that lost to Cairns in the Queensland Country U16 Championships final (pictured with the Cairns boys).
Andrew Cadzow, an AFL Queensland development officer and a consultant to AFL PNG said that the commitment and cooperation between the AFL PNG, AFL Queensland, AFL Cairns and the legion of volunteers, parents, players, supporters and AFL teams in Australia such as the Sydney Swans to develop the game in PNG has boosted the game's profile. Cadzow said that interest in the game has increased to such an extent that in the last decade the number of Australian Rules football players in PNG has gone from 1,000 to 10,000. He said that it was a certainty that more young PNG players would break into the Australian league.
Scott Reid, Director of AFL PNG explained that the steady development of a player pathway was making it possible for more talented players to be nurtured. Reid said the pathway was a process that allowed young players to develop at a steady rate. It begins with Pikinini Pilai Rules for kids 6-12. This is skills based teaching providing a fun enjoyable session for little children. Then it's on to Raitman rules for boys 12-16. This is also skills based but with stated Lifestyle Rules as selection criteria. Then an under U13, 15 & 17 schools competition; Provincial Representative Teams for U13, 15 & 17 championships; an Islands, North & South U13, 15 & 17 Regional Championship and a National U13, 15 & 17 Championship and then selection for the National Binatangs Squads for the following year.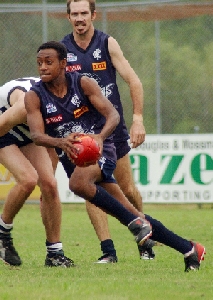 The Binatangs PNG National Teams at U14, 16 & 18 go separately to Queensland Country Championships with players eligible for selection in the Queensland Country Kookaburras Representative team in the Queensland State Championships and if they are good enough, players could be selected into the Queensland team to play in the Australian National Championships. Finally, if the players impress, they could be selected into the All Australian Team. But it doesn't stop there. Once in the Australian team, the young Papua New Guineans are eligible to nominate for the AFL's National Draft or an International Rookie List placement.
"Basically the player pathway is designed to allow kids to take small manageable steps toward the ultimate goal of a PNG boy playing AFL down there. When... who knows?" said Reid. At the moment three Papua New Guinean boys who have come through the player pathway are in Australia undergoing intense development programs with football clubs in Australia.
These boys are Alestar Sioni (who spent time in Brisbane on an elite development program with the premiership winning Brisbane Lions), Glen Tom and Desmond Kauma (pictured), who are all with the Cairns City Cobras (Cairns is a far north Queensland city). Current Binatangs team captain Anaga Isaac as well as team-mates Emmaus Wartovo and Simon Kanasa were selected in the Queensland Country Kookaburras to go on to Brisbane for the State Championships in May.