CAFA becomes AFL Canada
Sunday, August 01 2004 @ 06:56 pm ACST
Contributed by: Bruce Parker
Views: 4,653

As has been a trend with Australian football national bodies around the world recently, the top level organisation for footy in Canada has been rebadged. The following is from Mike Travers, AFL Canada President.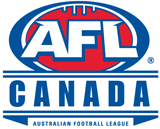 Effective Friday July 30, 2004, the national governing body for Australian Football in Canada, currently known as the Canadian Australian Football Association, will be officially changing its name to AFL Canada.
The AFL acronym is known around the world to represent the highest level of Australian Football, making the name change to AFL Canada a positive step in promoting our sport within the country and to those abroad.
Please visit our new website for the latest updates on footy across the country. Go to the site now and checkout the recently announced Northwind teams that will face the US Revolution in the 49th Parallel Cup, to be played on July 31st and August 1st at Humber College.
Should you have any questions regarding the AFL Canada name change, please contact me directly at mtravers@aflcanada.com.
Sincerely,
Mike Travers
President – AFL Canada