Cougars show Vancouver footy Australian Rules style
Monday, August 16 2004 @ 08:25 pm ACST
Contributed by: Brett Northey
Views: 5,573

We recently reported on the Denver Bulldogs staging a demonstration of Australian Rules football at half time of a big soccer match. We also mentioned an upcoming Vancouver Cougars demo at a Canadian Football League match - by all accounts it was a great success.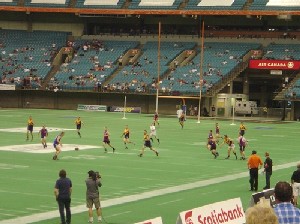 A crowd of 24,000 was in attendence for the BC Lions versus Montreal Alouettes match. The demonstration by the Vancouver Cougars Australian football club was given ten minutes at half time, which does not sound like much, but the Cougars website reports a lot of highlights were squeezed in.
The crowd were given a taste of the full range of excitement that comes with Aussie Rules. Hopefully the Cougars will gain a few recruits, as they seek to develop a second club in Vancouver. Check out the BC Footy website for a report, photos (a couple shown at left) and a few seconds of video of the match, plus some tongue-in-cheek stories from around their club.