Football's South Pacific Paradise
Saturday, September 04 2004 @ 06:30 am ACST
Contributed by: Brett Northey
Views: 8,561

Australian football has long neglected its own neighbours. A lot of work is now being done to change that. Could footy be bound for the South Pacific Games?
Australian Rules football has spread dramatically into Australia's neighbouring countries. Whilst Papua New Guinea and Nauru have long histories with the sport, Samoa and Tonga are much more recent converts. An important development in footy's growth in the region would be if it became a part of the South Pacific Games, the premier sporting carnival for the region. They are held every four years, attract a lot of attention and enjoy government funding. Aussie Rules would benefit greatly from involvement, but requires two key things. Firstly, there must be six countries actively playing football in the region. The following is a list of countries that attend the games:
American Samoa, Cook Islands, Federated States of Micronesia, Fiji, Guam, Kiribati, Marshall Islands, Nauru, New Caledonia, Niue, Norfolk Island, Northern Marianas, PNG, Palau, Samoa, Solomon Islands, Tahiti, Tokelau, Tonga, Tuvalu, Vanuatu, Wallis and Fortuna.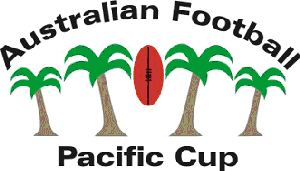 So footy has four countries firmly in place and matches are currently getting started in Fiji, where the inaugural SP Games were held in 1963. The last piece in the puzzle appears to be the Solomon Islands, where Australia has recently sent a peace keeping force at the request of the Solomon Islands government. The intervention has proved to be very successful, with great goodwill from the local people. There are several Australians and locals now trying to establish football, so hopefully the sixth nation has been found (see earlier story). Furthermore, the small nation of Niue is thought to have a football presence too.
The second key ingredient required to get the sport to the South Pacific Games will be, as is often the case, a lot of hard work from dedicated volunteers. Local leagues are already actively working to ensure Australian Rules football is included in the 2007 SP Games in Apia, Samoa. The most likely form would be a 9-a-side version, given that most countries have limited resources to send teams, and in general the future of the game on the islands may have to cater for Rugby sized fields. Hopefully 2007 will see Aussie Rules become well entrenched in the sporting culture of the South Pacific. Check out this website for more information on the 2003 Games in Fiji.