International Cup 2005 - preliminary predictions
Tuesday, February 01 2005 @ 06:41 am ACDT
Contributed by: Brett Northey
Views: 12,522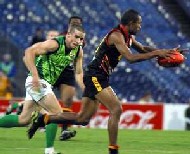 The biggest Australian Football event in 2005 might be the AFL grand final, or Australia versus Ireland in the International Rules series. But it could be argued that on the world stage, nothing will be bigger for footy than the 2005 International Cup. With very few internationals since the last Cup in 2002, it's a tough job predicting winners, but the World Footy News writers have all put their tips in and the results tallied to give our rankings.
A big influence on the final standings may be the pool system. To fit the tournament into 11 days, something reasonable given the amateur status of the players, after each team plays the others in their pool, the final is simply the top side from each side of the draw. Similarly the second ranked teams play off for third/fourth, and so forth. Although our writers may or may not have taken this into account, the system in which we tally all the predicted rankings to find an average finishing spot obviously does not allow for this.
In reviewing the teams, we are assuming that the Cup will feature the same eleven countries as last time (there are still some doubts due to travel costs), plus newcomers Spain, and that all eligible players are available. This may not be the case, as amateur players can't always make the time commitment. Almost all countries will have improved, so the key is to judge how much compared with each other. All the writers' rankings are in, and adding them all together, we have a predicted finishing order.
Papua New Guinea went very close to winning last time, and we have installed them as favourites. The junior program is in full swing and probably has the largest numbers in the world (outside of Australia), with reports of around 20,000! An effective talent identification program has already seen several teenage players have seasons in the Cairns AFL (in far north Queensland), and if these boys play, they should significantly boost PNG. Speaking with players who have played in the Victorian and South Australian amateur leagues, and played in or seen the Cairns AFL, they rate the top players in Cairns as similar to top VAFA and SAAFL players. With some youngsters with that sort of experience and having learnt from the last Cup, PNG will be very hard to beat.
Ireland, as reigning champions, must be highly rated. Their league has had some ups and downs since 2002, but there is still a strong, if small, pool of players to select from, with experienced soccer, Rugby and Gaelic players all with several seasons of Aussie Rules under their belts. Expect a similar level to their 2002 squad, but can they again cover PNG, who may well have improved? Maybe, especially if they can recruit some top Gaelic players, but we're tipping the big hopes of Ireland to have the tables turned on them this time around.
New Zealand are difficult to judge. They have numerous juniors exposed to the game, and even a full AFL match telecast each week on Saturday mornings. But at senior level, they have yet to convert junior interest into significantly increased numbers, despite a lot of work. However, they do have several players in Australian leagues, so expect the Kiwis to step up from the last Cup. They could threaten PNG for a spot in the grand final. Our writers couldn't separate them from Ireland as second favourites.
The US and Canada will be tough outfits. The Revolution weren't far off the mark last time, and the steady growth of the game means they have far more athletes to choose from. Canada, while not experiencing such growth, is expecting a much more professional performance, and have been training regularly under coach Greg Everett. This is an advantage with having most players based around Ontario. These two sides met there in 2004 and the US defeated the Northwind by just 2 goals. Canada also went down by 2 points in Pittsburgh a year earlier. Our tip is that the US might be close to the top spot in its pool, but in a tough draw Canada may finish lower down, despite fielding a stronger side than 2002 - the harsh reality of an improving competition. USA 4th overall, Canada in 6th spot.
Amendment 13th July 2005 - unfortunately Denmark withdrew from the Cup at late notice. A new final ranking is given towards the end of this story.
Denmark have shown strong signs and are a well-established Aussie Rules nation. They have slowly expanded their leagues and have had much success bringing juniors through in the Farum region. If this was repeated throughout Denmark they would be a force to be reckoned with. Even when just the Farum kids come through they will be very strong. Whether enough have developed in time for 2005 remains to be seen, but don't be surprised if the Danes put in a very polished performance, finishing around 5th.
Samoa had some of the best athletes in 2002 and the game has continued to grow there, but information coming out of that country is scarce and they haven't had any international competition, so they remain a bit of a mystery. This may lead us to underestimate them, but with modest playing numbers compared with the top few countries, sixth seems a reasonable tip at this early stage of their development.
Japan's tour of Australia in 2004 was an eye-opener. Taking on several amateur clubs, the Japanese were quite dominant. It was not their full strength side either, and the boys have been training many times a week for this tournament. Some see them as major improvers, but a word of caution about great expectations would be that some of the sides they played in Australia did not field full strength teams either, and Japan did go down to a Canterbury AFL side (from New Zealand's South Island). We think the Samurai will be competitive in every game, but lack of height in the key positions will make it tough for them. But beware any teams that aren't super fit, or you might find them run away with the game, literally.
Britain - expect some improvement, with the BARFL starting to show signs of potential with the Regional and Scottish leagues complementing the London-based clubs, but those gains are probably yet to translate into improvement like some other countries. Lack of juniors coming through with natural footy instincts will hurt. The tallied World Footy News votes have them in ninth spot.
Nauru are a bit of a wildcard. Australian Football has for long been the dominant sport in this small neighbour to Australia. But they have had a terrible time financially and the whole country has been crushed economically. Their pride and joy, Nauru House in Melbourne, was recently sold, and tragically they were investors in the Fitzroy Football Club, the old VFL/AFL club that was so financially stricken it had to merge with Brisbane or face extinction. If Nauru still had their vibrant Australian fooy competitiion then they would be very strong, despite a tiny population, but it will actually be surprising to even see them manage to get to Melbourne for this year's Cup. Assuming they do, but are not well prepared, anything higher than 10th would be a good effort.
The explosion of footballers in South Africa was one of the stories of 2004. The numbers of players has quickly moved beyond 1000, and the future is very bright indeed. However, most of this growth is juniors, so it is unlikely this will translate into major success in the International Cup of 2005. More will be known when an Australian amateur side called the Convicts tours South Africa (happening as we speak). Expect the Africans to have markedly improved and perhaps snare their first international win, but they won't threaten the top spots this time around. July 13th 2005 update - the tour showed that a lot of good junior development is occuring, but perhaps not yet producing a large group of senior players, so the predictions here remain unchanged.
Finally we come to the new side, Spain. They are based heavily on just one side, the Madrid Bears, but will have the benefit of having played matches together, for example in the Central European Championships. But such a tiny base of players to call on must surely see them struggle and it is hard to see where they will get a win (although in late news, it seems that the mystery second league in Spain continues to run, and may be hoping to provide players towards the Spanish team). Despite the likely struggle, Spain are nevertheless a welcome addition to the tournament. We just hope they are realistic about their chances and aren't discouraged if they suffer a few big losses. But perhaps they will surprise.
So, to the finishing order predicted by World Footy News. We apologise if anyone is offended by where their country have been tipped to finish. It says nothing about any individual or league, but simply represents an educated guess, without even having seen most of the players who will be doing battle. Our final rankings (and remembering that as an artificial tally of votes, the pooling system isn't really allowed for):

1  PNG
2  Ireland
3  New Zealand
4  USA
5  Canada
6  Samoa
7  Japan
8  Britain
9  Nauru
10 South Africa
11 Spain

Denmark were tipped for 5th, so all teams below them are now lifted one place.
Of course there are a host of other countries which have begun playing Australian Rules football to some extent. Of those, there are quite a few that have started to build an indigenous base, and so we will hopefully see them for the third International Cup, to be played in 2008. The new countries that may well be ready by then include:

Tonga
Sweden
Germany
Chile
Argentina
Fiji
Solomon Islands
Indonesia

India and China also have huge potential and may be ready. If just a few of this list wish to attend, the tournament will have to be re-designed, either with divisions or qualifying. Other countries with tentative footy programs include Belgium, France, The Netherlands, Austria, Zimbabwe, Kenya, Singapore, Philippines and Malaysia, but it is still very much early days for those areas.
Bring on August 2005!