Auckland AFL dominate at New Zealand Championships
Sunday, September 26 2004 @ 10:46 pm ACST
Contributed by: Jake Anson
Views: 4,274

Auckland AFL was the runaway winner at the New Zealand National Provincial Championships, held at Christchurch's Village Green Oval on the weekend.

Auckland capitalised on the strength of numbers its league enjoys and an early start to the season to convincingly defeat the other provinces attending the championships. A 29-point win over Canterbury and a 17-point win against Wellington, combined with a 114-point drubbing of Waikato, ensured that the boys from New Zealand's largest city took home the coveted NPC trophy. With two victories Wellington finished ahead of Canterbury, whilst Waikato's first NPC win remained elusive.
One encouraging feature of the weekend's matches was the competitiveness of all provinces. Even in newcomer Waikato's match against powerhouse Auckland, the Thunder managed to post a heartening 4.3 on the scoreboard. Competitive matches are essential to ensuring that newly-established football leagues remain enthusiastic about the sport and can be confident that their development is progressing.
Another encouraging feature of the NPC was the success of the round-robin format, which ensured that all squads gained as much football experience as possible. The NPC tournament is an important cog in the Australian football scene in New Zealand. It provides players from the four regional leagues with a target to work towards - namely regional selection - which provides further opportunities to achieve selection in the national squad. Hopefully as Australian football continues its growth within the New Zealand school system more regional leagues will emerge providing further competition at the NPC.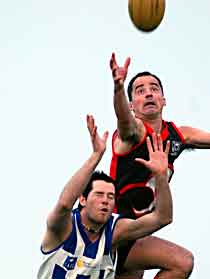 Results of individual matches from the tournament are as follows:
Saturday 25th September
Auckland AFL 7.8 (50) d. Canterbury AFL 3.3 (21)
Wellington AFL 13.14 (92) d. Waikato AFL 2.0 (12)
Auckland AFL 22.9 (141) d. Waikato AFL 4.3 (27)
Wellington AFL 7.5 (47) d. Canterbury AFL 2.4 (16)
Sunday 26th September
Canterbury AFL 16.3 (99) d. Waikato AFL 3.5 (23)
Auckland AFL 8.6 (54) d. Wellington AFL 5.7 (37)