Toronto Downtown Dingos go back-to-back
Tuesday, October 05 2004 @ 11:40 pm ACST
Contributed by: Brett Northey
Views: 4,821

The Toronto Downtown Dingos have knocked off minor premiers the Toronto Eagles in the 2004 OAFL Grand Final, giving them back-to-back premierships, just the third Ontario club to achieve it. Thanks to Bruce Parker in helping compile this report.
The Eagles (formerly the Panthers in the formative years of the Ontario Australian Football League) have been the OAFL's most dominant club, with nine flags. They went through the regular season undefeated in the 10 side competition, but the Dingos proved too strong in the finals, winning both their clashes.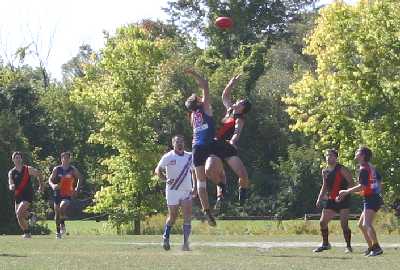 Saturday October 2nd started off like any miserable fall day would. Cold and wet. Scattered showes had rolled through the area the night before and the morning saw a continuation of that. There were showers right up to 30 minutes before game time and a strong north wind was keeping things to a cool 16C. But at the opening bounce the clouds were rapidly clearing and the sun was coming out. It made for a beautiful afternoon for football. Unfortunately the early rain had also put off a lot of spectators.
The teams were evenly matched, and to start the game Eagles had the wind at their backs. With good hard play for the ball, the teams exchanged the lead back and forth. The end of the first quarter saw the Eagles 2.3 (15) over the Dingos 1.3 (9).
The Dingos came out of the first break with some determination and used the wind to full advantage. Strong play from the mid-field saw the Dingos kick 5.1 to the Eagles three straight, giving the Dingos the lead 6.4 (40) to 5.3 (33).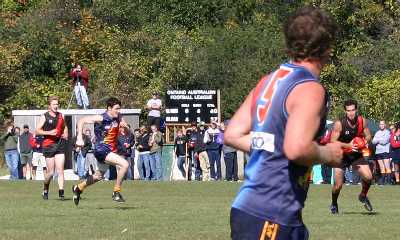 Both team contested hard in the third quarter however the Eagles could just not take advantage of the the wind. The Eagles won the quarter 1.4 (10) to 1.2 (8) but still trailed by six points and faced a huge battle to convert their minor premiership into a flag.
And so it proved. The fourth quarter saw the Dingos run over the top of the Eagles. Using the wind they maximized their possesion of the ball and kicked 3.3 (18) while the Dingos defence shut out the Eagles.
Final scores: Toronto Downtown Dingos 10.9 (69) defeated Toronto Eagles 6.7 (43)

Goal Kickers

Dingos: Mike Butcher, Craig Stewart, Bryan Wells 2, Chris Buczlowski, Christopher Jordan, Andrew Nisker, Tim Shaw 1

Eagles: Mark Van Gelder 5, Troy Marsh 1

Best on Ground: Christopher Jordan, Toronto Dingos