Tozai Cup kicking on in Kansai
Wednesday, October 13 2004 @ 03:34 am ACST
Contributed by: Anonymous
Views: 3,490

A dedicated group of footy faithfuls in the Kansai area of Japan are doing their bit to ensure footy in Japan is not just confined to Tokyo. Next Sunday a women's match, a kid's match and a men's 3-team tournament will take place in Osaka, highlighting the great developments that continue to be made footywise in the Kansai region, and in Japan as a whole.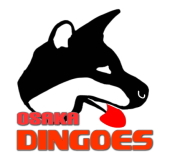 Just by way of background, Kansai is the term used to describe the extensive region that includes large cities such as Osaka, Kyoto and Nara. While they are separate cities, they are only a train ride away from each other and pretty much all conurbated together nowadays. Kansai literally means, west of the barrier. Kanto region, involving Tokyo and neighbouring cities, means east of the barrier!
This year, the Osaka Dingoes Australian Rules Football club, has continued to grow and attract numbers at training at Osaka Castle Park on Saturdays. So much so that the club has branched off into separate teams. The Osaka Bilbies (womens team) and the Kansai Kangaroos have been formed to be part of the Japan Osaka Australian Football League (JOAFL), with the Dingoes and Kangaroos playing a series of matches and the first ever Grand Final of Australian Rules Football in the Kansai region. For the record, it was the Kangaroos who got up comfortably in the final.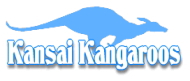 Anyone living outside the inner Osaka region, is zoned to play for the Kangaroos. While a bit of rivalry has formed and the games have shown a lot competitiveness, at the end of the day, all players are mates and part of Osaka Footy Club. It's a great mix of people not dominated by one group, Australians, Japanese, males, females, bigs and smalls all equal and welcome in the club. A great community of friends has formed through getting together for a kick of the footy and that's what footy is about the world over.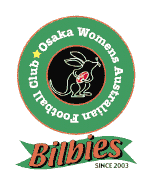 This year Osaka once again travelled up to Tokyo as a team to compete in the Narita Cup, and recently held a successful AFL Grand Final Day Party, where some money was raised for future happenings. Another great development for year 2004 will happen on Sunday the 17th October when the Tozai Cup will take place. The Tokyo Goannas are travelling to Osaka in what will be the first time that separate Osaka teams have taken on another city. Footy is alive and kicking in Kansai and everyone is looking forward to next Sunday.
From the Osaka Footy Club website - enquiries contact Adam at Osakadingoes@hotmail.com. Dingoes, the Kangaroos and the Tokyo Goannas will play in a three-team tournament series. The Tokyo women are also playing the Bilbies. The Russells (kids team) will play too and the Russells' mothers will prepare a BBQ which is BYO. It will be a great day. Please meet at Exit 4 of Tanimachi subway line Miyakojima station at 12 noon.