Women\'s Footy starts in Canterbury NZ
Wednesday, October 20 2004 @ 08:50 am ACST
Contributed by: Brett Northey
Views: 11,149

The Canterbury Australian Football Leagues (CAFL) is based around Christchurch, on New Zealand's South Island. The league features four men's clubs, with hopes to expand to six. Anecdotal evidence suggests that footy is quite popular with girls in New Zealand schools. Recently the CAFL held its first women's game. The following story is courtesy of
the NZAFL website
, and the photo from
the CAFL website.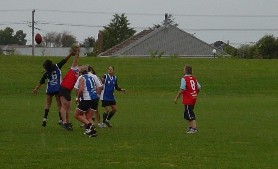 The CAFL have had a group of women training for the last six weeks under the guidance of Mal Hogan (Umpire Coordinator). The women played their first "official" match last Saturday at QE11 stadium. The match was umpired by Hogan and comprised four x 12 minute quarters.
"The girls have improved extremely well over the past six weeks", said Hogan. "The first training session was interesting with all of the girls complaining about sore knuckles from hanballing the ball, however the improvement across the board in their skills and knowledge of the game has been exceptional".
"Most of the girls have Rugby and Touch backgrounds which has assisted in their rapid development. In addition, most of the girls are employed by NZ post which is a postive from a fitness point of view," Hogan said.
The CAFL and Mal Hogan are to be congratulated for expanding the code in Christchurch to enable women to participate in our great game.