Tonga schoolboys tour of Samoa
Sunday, November 28 2004 @ 09:16 am ACDT
Contributed by: Brett Northey
Views: 4,486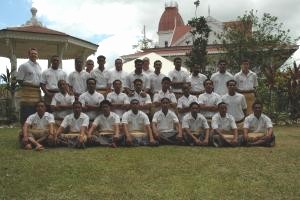 It's exciting to report the first true international tour by a Tongan representative side. After their successful first season of schoolboys footy in the Kingdom, their best side has been selected and will travel to nearby Samoa, to take on their arch rivals.
The initial training squad featured players from the villages of Liahona, Havelu, Fatumu, Maufanga, Pahu, Popua, Ha'alalo, Haasin and Houma. The final squad was to be announced at the Rotary Fun Fair on 20th November, and a series of kava nights were held to raise funds. On Tuesday the entire squad had the privilege of meeting the Tongan King, Taufa'ahau Tupou IV, who wished them luck and to enjoy themselves. The tour was due to leave last Wednesday, play a Goodwill friendly on Thursday, and then their first ever major international, against a Samoa highschools side, on Saturday 27th, in Samoa's capital, Apia.
As it says in the TAFA news, unlike the old days when Tongan's would jump into their canoe's and paddle off to war against Samoa, this time they will be travelling in style by air. The tour has been generously supported by Polynesian Airlines, who also assist in Samoa, where footy has been up and running for several years. The Tongan boys will have their work cut out for them. We'll bring you the results when available. Below is the touring squad.


Siaosi Enosi Tuipolotu - President
Malakai Vakasiuola - Vice President

Coach - Mark Korsten
Assistant - Lolo Tu'ifua
Nick Blencowe - TAFA Development Officer
Lotu Pangi - TAFA Development Officer
Tevita Vakasiuola - Doctor
Gajan Panagoda - Physio
Deve Roberts - Camera Man
Sione Masima - Driver

Maikolo Fonua - Liahona
Suiti Fotu - Havelu
Samuela Heilala - Havelu
Suli Kaufusi - Havelu
Simione Loketi - Fatumu
Sione Petelo - Maufanga
Ofa Mata'u - Pahu
Paulo Penitani - Maufanga
Siupeli Huihahou - Liahona
Tonga Toutai - Popua
Sione Pomale - Liahona
Fe'iloaki Falekaono - Maufanga
Heneli Tonga - Lapaha
Semisi Takolo - Popua
Salesi Tauveli - Ha'alalo
Viliami Niupahu - Liahona
Aleki Tuiono - Maufanga
Paseka Fangupo - Maufanga
Makiteli Valu - Maufanga
Seleti Kolopeaua - Havelu
Vaikalafi Tufi - Haasin
Ueini Tuiuholoala - Houma