Aussie Rules gets its start in the Philippines
Saturday, January 15 2005 @ 07:24 am ACDT
Contributed by: Derek Ackary
Views: 7,246

Australian Rules Football has taken its first tenuous steps towards gaining a foothold in the Philippines. The following article is by Derek Ackary ("Dezza"), President of the Philippines AFL. This is the story of how it all started and the very positive progress so far.
There they sat, Stoney and Dezza on a Sunday afternoon at Nomads Sports Club having a few quiet beers whilst watching the round 1 match of the 2004 season. Stoney says to Dezza, "wouldn't it be good to get an Aussie Rules comp going here in the Philippines". From then on, the wheels were rapidly set in motion. So much so, that after drinking for most of the afternoon, the two soon to be co-founders of Aussie Rules in the Philippines decided to kick a half flat rugby ball around on a rugby pitch inspired by the exciting possibility of actually playing Aussie Rules again after years, almost decades on the bench. Little did they know was the journey they were about to embark on would be unlike anything ever seen in this country before.
The most excitement for an Aussie Rules fan in this part of the world, was the once a year Grand Final lunch. At the beginning of 2004, it was virtually impossible to find an Aussie Rules ball to even hold and bounce in the Philippines, let alone play a full blooded game. But with the knowledge that the Annual Aussie Rules Asian Championships was alive and well in SE Asia, the challenge was there – to try and establish a team, a league or anything at all that would allow us to go out and let fly with a torp and have a run and maybe, just maybe, enter a Philippine team in the Asian Championships.
The ultimate aim was to put a team together to at least compete with the other teams in Asia, namely the more established clubs in Malaysia, Singapore, Thailand, Hong Kong, China, Jakarta and Bali. Japan have an established league and Brunei also have a team but don't travel all too often. So the question was, how do we establish a team or league here? The first hurdle that confronted us was getting the numbers together on a regular basis. The second and more difficult hurdle, was maintaining them.
It was then that the idea of a mini league be set up with modified rules with a smaller ground and adapting the rules in such as way that the game could be played by teams of anywhere between 6 and 9 players, as we knew getting 36 or more people to turn up week after week to sport 2 full teams was too big a challenge. On top of that, we knew that having plain old training week after week would become monotonous very quickly and Aussie Rules in the Philippines would die just as soon as it started. We felt that having a regular competition going, even if only on a small scale, would attract more attention and get the competitive juices flowing for the participants, hence helping to maintain the regularity and keep the momentum going.
So from there, all the Aussies we knew were contacted and a kick to kick was organised to see how many would turn up, and how many would be interested in helping to get a comp going. This first kick to kick was held at Nomads Sports Club in the searing heat of the early afternoon of Saturday April 17, 2004. About 15 people turned up and the excitement started to emminate as the Aussie Rules starved participants took great delight in taking a few attempted speccies and letting fly with a few torps. The following Saturday, the numbers dropped slightly but there was still enough there to have a good solid kick to kick and run around. It was decided there and then that a serious attempt to start an Aussie Rules comp had merit so the following week at the British School, the very first game of Aussie Rules in the Philippines was played – well sort of. We had 10 people turn up, with one going down with a hammy during warm up, and another withdrawing due to illness. So that left us with 8 players in which we had 2 teams of 4, with one of the four having to umpire and play until half time when Kingo rolled up. What made it even more difficult was we only had a soccer pitch with soccer goals! So it was decided to hand pass the balls into the soccer goals to score a goal. After two 10 minute halves, it was called quits with the "blues" running out victors over the "reds" 7 goals to 5. Needless to say, the traditional couple of cold beers after the match commenced the important process of Aussie camaraderie off the field.
Then, things really started to get serious. The Manila Polo Club hosted the first of what was hoped at that time, to be one of the many games to played there for the year. This was the first game with real goal posts. There was a momentary panic just before the game, as the goal posts actually arrived at the ground 5 minutes before kick off! It was an amazing turn out as we ended up with 27 players. It was decided to have 13 a side with 10 players on the field and 3 much needed interchange players with 4 x 10 minute quarters. The umpiring duties were rotated each quarter between four of the players.
At that stage, the teams were fairly well undecided so the teams were split into the NON VICS and VICS and were pretty evenly matched in terms of age, size, fitness and ability. It ended up being a well fought out game with the final scores: VICS 5.0 7.1 9.2 12.3 (75) NON VICS 3.2 4.4 8.6 10.6 (66). The game was thoroughly enjoyed by all who participated and everyone could sense as they swilled away on their post match beers, that this was the start of something never before seen in this country.
For the next game, it was decided that the recruitment process for each team would be based on the player's state (or country) of origin, and a week or two later the Non-Vics were renamed the "Dingoes". A month or so after that, thanks to the generous financial contribution by James Murrihy of bedding company Forty Winks (our very first sponsor), a full playing kit was designed and manufactured for the Dingoes and Vics to put the icing on the PAFL cake. We now had a regular ground to play, we had goal posts and finally, we had kits to wear. Since then, we haven't looked back.
Since that historic (maybe "hysteric") first game with the soccer goals, there have been many positive developments for PAFL (Philippine Australian Football League). It has structured itself into a hard working voluntary Committee. It has forged a very important alliance with the Manila Polo Club, which, without doubt, has the best piece of turf in Manila. The 6 hectares of the Manila Polo Club (MPC), situated in the central location of Makati, enjoy a pristine ambience and some of the club facilities – available to PAFL members – are second to absolutely none. So, this is our "M.C.G." – our "headquarters."
The non-contact version played by PAFL and the non-combative spirit in which the matches are played generate a typically friendly Aussie environment to enjoy the company of fellow compatriots, their spouses and friends. Our youngest player is 15 and our most senior player is 52 and we have everyone in between of varying levels of fitness, experience and ability. Many nationalities have participated in our weekly comp including those of English, Scottish, Irish, American, Canadian, Dutch, Indonesian and Filipino descent. It is fair to say that PAFL's success to date is reflective of the cross-section of players attracted to the competition, coupled with the players and spectators mingling in true Aussie style after each game, washing away the pain with a few beers. On the last Saturday of each month we have an after-match Aussie barbeque for both players and spectators which has run with great success attracting anywhere from 40 to 50 spectators each time.
PAFL is also keen to promote "Aussie Rules" in the Filipino sporting community. We currently have 2 regular Filipino players but are looking to expand this further, weening them off that boring sport with baskets and round balls. This will all happen in due course. For the moment, PAFL has just enjoyed an exciting first year with 2005 and beyond promising even more.
It is fortunate that a number of people have not merely given their time to make this burgeoning organisation (PAFL) the success it is, but have given some financial support such as supplying goal posts and stands, the footballs, sponsoring the costs of guernseys, our barbeque, our first aid kit, our awards night and our new web site to be up and running soon. The future of PAFL is looking good. For further information you can email dezza at bigfoot.com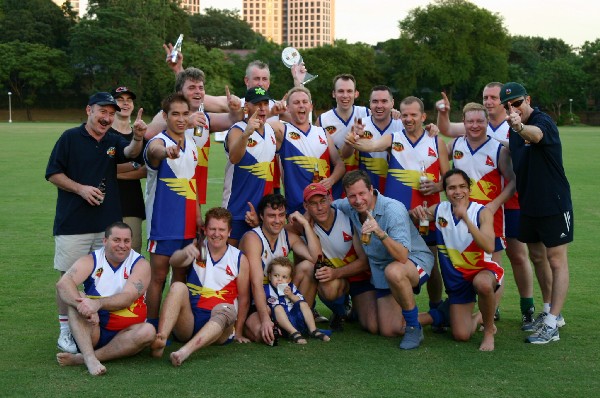 The Philippines side after defeating the (admittedly under-strength) Hong Kong Dragons on debut on 30th October 2004