August can\'t come soon enough for Japanese
Thursday, January 20 2005 @ 05:30 pm ACDT
Contributed by: Aaron Richard
Views: 2,607

The
Japan AFL
have just gratefully received a grant from the AFL to help continue the upward development of the past few years. Now with 13 teams and over 500 players nationwide, the Japanese league has made some great sides forward and the national side is eagerly awaiting the International Cup in August. The 2004 JAFL Tokyo premiership was won by the
Tokyo Goannas
, edging out the University Samurai to win by three points. The Samurai had been performing strongly all season and were hot favourites, and it was only after a very tough struggle that the expat Goannas came through with a 102-99 win.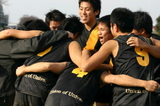 This year's inaugral Uni League ended with Waseda defeating Senshu for the cup. Waseda (wearing the Tigers jumpers in the photo at left) raced out to a healthy lead in the first quarter but Senshu chased down and successfully reduced this lead over the next three quarters of the game. Despite Senshu bringing the score to within striking distance in the final quarter, Waseda never looked like relinquishing their lead. Final Score: Waseda 132 d Senshu 102
The university league was a great success and according to reports may be expanding to five teams for the 2005 season. As a development league for Samurai players, the university league could prove a great starting point for players who eventually move on to represent Japan.
The main Japan AFL senior league in Tokyo may also be expanding to eight clubs for the 2005 season, with the Tokyo GAA having entered a side in recent times and a new club being founded in the Saitama area north of Tokyo.
The Japan Osaka AFL are also looking at expansion for the 2005 season, after a successful 2004 that saw them found the new Kansai Kangaroos senior mens side, the Osaka Bilbies womens side and a juniors team in the Osaka Russells.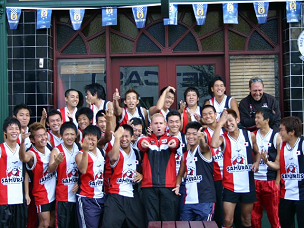 All this promises well for the future, and as big improvers on their tour of Victoria in 2004 the Japanese will be a team to watch in Melbourne come August.