First Tongan scholarship awarded
Friday, January 28 2005 @ 10:51 am ACDT
Contributed by: Matt Morris
Views: 5,103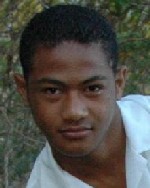 Polynesia Airlines and TAFA have today announced that young Tongan Semisi Takelo is the first recipient of a scholarship to study and play Australian Football in Australia.
The announcement was made today (January 25) at the
Polynesian Airlines
office with the Tongan Australian Football Association (TAFA) president Mr Malakai Vakasiuola present. Takelo's mother, Ms Lesieli Takelo of Fotua Ha'apai was also in attendance for the announcement.
Takelo's selection was made based on 6 main points:
• First, the recipient must have staisfactory academic record. Takelo's four term reports from Liahona High School showed he was among the top 25% in the the school's Form 4 level;
• Second, that player must show marked improvement in his footy skills in every game he played in, during training and on tour;
• Third, that player must demonstrate maturity and exceptional leadership quality not only on the field but off it as well;
• Fourth, the player must be actively involved in all if not most of TAFA's community building activities, which included several fundraising activities and being visible in the community (hospital, market place & on road sides) for the marketing of TAFA;
• Fifth, be supported by the school principal and coach and especially by the parents to go on tour and, to be separated from the family for a year and maybe more to go to Australia to study and play Aussie Rules and
• Lastly, return to Tonga and actively contribute to further developing the sport and continue to strengthen TAFA's good relationship with the wider community.
While in Australia, 16 year old Takelo will be studying at Assumption College in Victoria. He will be staying with a teacher from the school and will need to show some desire to be at the school in order to be given an extra year or two at the school.
Takelo's sponsors in Tonga are Pacific Timber and Hardware and Polynesia Airlines, who are providing Takelo the return to ticket to Sydney. Assumption College has offered to cover all expenses relating to Semisi's study at the school and Rotary Australia will also contribute to Semisi's welfare while staying in Melbourne.