Crows Flying High
Saturday, May 21 2005 @ 02:13 am ACST
Contributed by: Matthew Guthrie
Views: 2,854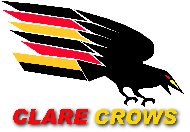 The Clare Crows find themselves after three rounds of the ARFLI competition on top of the ladder. This is the first time in the club's short history that they find themselves in this lofty position at any stage of a season.
The Clare Crows recorded their largest win on record kicking a huge total of 26.16.172 last weekend to boost their percentage and destroy any myths that people from the west can't kick straight. Clare, a team comprised of 99% Irish players, has three representatives in the 30 strong squad (emergencies included) selected for the National team and hope to build on the excellent start made this season.
The ARFLI's six clubs have completed three rounds of the 2005 season. This year the decision was made to shorten the season so that all teams play each other only once in home and away fixtures and that no club would be at a disadvantage come late in the season when a large number of players will be unavailable due to International Cup duties. The season will conclude 16 July, just prior to the Irish National Squad taking off for Australia where they hope to retain the title Australian Football International Cup Champions following up from their 2002 win.
Season 2005 has seen a few changes at the club level with the Midland Mullingar Tigers merging with the Belfast Redbacks (Midland Tigerbacks) and the introduction of a new Dublin based club the Dublin Saints.
With the introduction of the 50/50 rule of Irish/Australian numbers appearing on the field at any one time the competition appears to be the closest in recent memory with only percentage separating the top four sides at over the half way point of the season. All sides have registered a win and conceded a loss, with the exception of new club the Dublin Saints. A win may not be too far away for the Saints though as they have been very competitive in a number of their matches to date and did register a maiden club victory in the Super 10's Competition.
Premiership table after 3 rounds:


| | P | W | D | L | PF | PA | % | Pts |
| --- | --- | --- | --- | --- | --- | --- | --- | --- |
| Clare Crows | 3 | 2 | 0 | 1 | 301 | 153 | 196.7 | 4 |
| Leeside Lions | 3 | 2 | 0 | 1 | 259 | 152 | 170.4 | 4 |
| Dublin Demons | 3 | 2 | 0 | 1 | 222 | 185 | 120.0 | 4 |
| Dublin Eagles | 3 | 2 | 0 | 1 | 210 | 191 | 109.9 | 4 |
| Midland Tigerbacks* | 3 | 1 | 0 | 2 | 103 | 264 | 39.1 | 2 |
| Dublin Saints | 3 | 0 | 0 | 3 | 94 | 244 | 38.5 | 0 |
* Midland Tigers and Belfast Redbacks merged to form one club