New Zealand outclass Great Britain in tough contest
Wednesday, August 03 2005 @ 08:02 am ACST
Contributed by: Troy Thompson
Views: 5,285

Round one of the 2005 International Cup saw the New Zealand Falcons take on the British Bulldogs in a skillful but ultimately one-sided affair.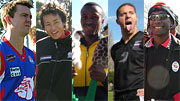 The New Zealand Falcons started well in the first quarter kicking with the breeze. Early goals to Gunning and Henderson. Big Julian Ford was giving the Great Britain Bulldogs good use of the ball but all the play was at the Falcons attacking end. Henderson goaled again from 35 out and this was followed up by the Kiwi skipper Andrew Congalton intercepting a kick from the Bulldog's defence and goaling from 45 out. The Falcons went to the break with a 28 to nil lead.
The Falcons applied heavy pressure on the Bulldogs early in the second quarter with heavy tackling and spoiling well as the Bulldogs tried to pierce the defence. Julian Ford speared a pass into the square where the Bulldogs player dropped the ball, but recovered to score from 1 metre out. No further goals were added, with one behind to the Falcons and two behinds to the Bulldog's.
After the half time break the breeze seemed to have dropped off slightly. However it was all the Falcons with an early goal and two behinds. The British side was reduced to seventeen men when Andy Craig was shown the yellow card and sent from the ground unable to be replaced. But stronger resolve from the Bulldog's defence saw only one more goal kicked for the Falcon's from 50m out. The Falcon's took a 43 to 8 lead into the last.
Julian Ford was giving his all in the last smacking the ball forward strongly from the ruck, but it was the Falcon's halfback line that set the tone running the ball out calmly and delivering downfield. The New Zealand skipper able to receive one of these passes before strolling into goal to make the Bulldogs' task very difficult. Alex Fakatoumafia stood out in the last quarter with some big runs out of the backline. A heavy clash of shoulders saw Bulldog's player Chris Dickson leave the ground with what looked like a serious shoulder injury. The Bulldog's were not finished though and added another goal through Paul Harris' great snap from the pocket. This was answered by Craig Ashton for the Falcons who strolled into the open goal without mistake. While going down convincingly the British team added one last goal through Jimmy Sullivan who was rewarded for his strong tackling. The Falcons running out easy winners in the end.
The match was very skillful and tightly contested. The Falcons were superior with their long kicking, aerial skills and ferocious tackling. The Bulldogs never gave up all day, and will provide strong competition throughout for their upcoming opponents. Best players for the Falcons were Congalton, Henderson and Fakamatoumafia while for the Bulldogs Ford stood out.
Final scores

Great Britain 3-4 (22)
New Zealand 8-8 (56)