Irish back on track with a big win over South Africa
Sunday, August 07 2005 @ 04:25 am ACST
Contributed by: Aaron Richard
Views: 3,292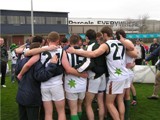 Ireland bounced back from their loss against the USA to record a 59-point win over South Africa. The Buffaloes showed some impressive speed in parts and held the Irish for long periods of the game, but ultimately Ireland were just too strong.
In overcast, cold conditions with the threat of rain, the Irish came out stronger, with the conditions suiting their style of play better than the Africans'. Some tough hits were put on, and while the South Africans put in some tenacious defence, the ball spent most of the quarter in the Irish forward line, the Irish breaking through with goals to Dennis Kenelly and Dennis Goggin.
Scoreless at the quarter time break, Buffaloes' coach Steve Harrison instructed his charges to get the ball out of the packs and into space, letting them use superior leg speed to their advantage. However, it was Ireland who opened the second quarter with running and a precision passing game, getting two quick goals early and holding the Buffaloes to a single major through Rantho Phogojane while also adding a third of their own for the term.
The third term opened in a tight scrap in the Irish forward line, doing all the attacking but not able to break through until Diarmuid Griffin and Mike Finn kicked two goals, opening up the game and taking the Irish into the final change 48 points ahead.
South Africa started the final quarter with some good running into the forward line but were unable to convert, adding only three behinds for the quarter while Ireland kicked another 2.2 to finish the match with a 69-10 victory. Final Scores

Ireland 10.9.69

South Africa 1.4.10