Farum Finally Fly Flag
Sunday, September 18 2005 @ 04:47 am ACST
Contributed by: Ian Hill
Views: 2,996

At the third attempt after returning from the football wilderness, the Farum Cats finally clinched their second DAFL premiership yesterday with a hard-fought 44 point win over the impressive underdogs, South Sweden Saints.
The final scoreline read Farum 15.16(106) to South Sweden 7.20(62). Full scores can be found on
The Footy Record
.
Although most pundits were expecting a big win for the Cats, the Saints were far from disgraced and it was not until the 18 minute mark of the final quarter that the Farum crowd felt the flag was theirs. In an odd twist, it was the skill of the Swedes and the hardness of the Cats which kept the game even, rather than the reverse which had been anticipated.
Early on, South Sweden surpised the Cats and dominated the first quarter but simply could not score a goal. The Cats had trouble getting the ball across their half forward line but on the few occasions they did, they managed to goal each time. Early in the second quarter when the expected flogging might have begun, the Saints stunned the big crowd with three goals in two and a half minutes, and for a brief period late in the second quarter they held a slender lead.
But after half time, the experience and skills of the Cats gradually wore the Saints down and they slowly pulled away. But the Swedes made Farum earn it and as late as 18 minutes into the last quarter, the game could still have gone either way. Four late goals to the Cats when the game was over exaggerated the margin.
For several years now, the talk has been that once the Cats break their duck, that their junior program will bring a string of premierships, but on yesterday's performance it is hard to see how South Sweden will not win a flag in the not too distant future. If they continue to pick up first year players like Leo Nilsson and Ken Flydalen, they will be tough to beat.
Both Gavin Hollingworth and Rhys Bennett booted five goals for the Cats, while David Burns-Wallace was awared best afield - an extraordinary effort considering he sustained a finger injury in the first quarter which only after the game was found to be broken!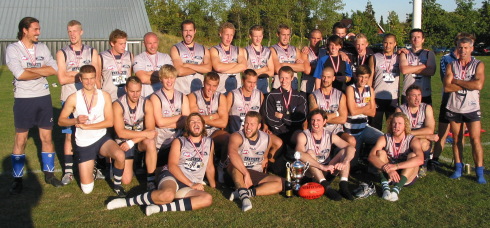 The Farum Cats also made a day of it with a celebration before the match of the club's 10-year anniversary (albeit one year late), at which Ian Hill steadfastly denied rumours that he was after Mick Sitch's DAFL record for the longest speech.