Samurais look to carve out careers as Aussie Rules pros - UPDATE 1 DEC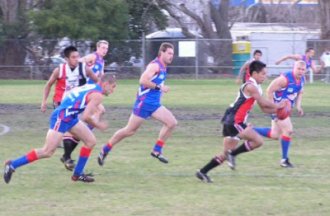 Samurais Michito Sakaki and Tsuyoshi Kase are heading Down Under in the hope that they may be able to cut a swathe through the opposition and make it as professionals in Australia's national game. The following article is by Ryann Connell and appeared in Japanese paper The Mainichi Shimbunon November 23, 2005.
Our understanding is that the two Japanese players have been assisted in travelling to Australia with sponsorship from QANTAS, Robert Walters and members of the Japan AFL. Kase and Sakaki are pictured in action for Japan at the recent 2005 International Cup in Melbourne.
Sakaki, 22, and Kase, 23, members of the Samurais -- the nickname of Japan's national Australian Rules football team -- are the first ever Japanese players of Australian Rules football to have been invited to take part in the Australian Football League draft camp.
Sakaki and Kase will be trying to beat out about 130 aspiring players to secure a place on one of 16 professional teams in the AFL whose coaching squads will be intent onlookers at the camp held at the Australian Institute of Sport in Canberra from Dec. 2 to Dec. 11.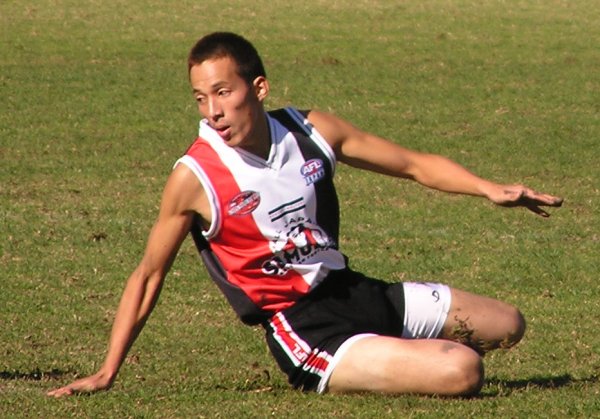 "I want to really put out everything I am capable of producing," Sakaki said during a reception Australian Ambassador Murray McLean held at the Australian Embassy in Tokyo on Tuesday night to farewell the pair.
Sakaki, whose selection earlier this year in the World All Stars team gives him the right to claim he is one of the leading non-Australian proponents of the game, is confident of his chances.
"I'm only short, but I'm speedy," the 166-centimeter pocket dynamo said in his excellent English. "It's going to be a case of catch me if you can."
Kase, also a member of the Japan National Team, will head to Australia for 2 1/2 months, and hopes to make the grade.
"Only staying for 2 1/2 months is a bit of a waste. I want to sign a professional contract and come back to Japan to tell you all about it," he said.
McLean said he hoped a professional AFL team would select the players.
"Aussie Rules is a unique Australian icon," he said. "(Invitation to the draft camp) is a great achievement and testament to your talents. I wish you the best in Australia."
Sakaki (top left, in action against Great Britain) and Kase (main photo) will also train with the Essendon Bombers, AFL's most decorated team and will be available for selection in a practice game against the Sydney Swans, the reigning AFL champions, early in 2006.
Original links:
Update 1 December 2005 - The two players training with Essendon were further reported on in the story Say konichiwa to the Dons' trainees in Realfooty. It mentions they may be found positions with lower tier clubs in Melbourne, and also lists coach Kevin Sheedy's other "international" experiments, including US college footballer Dwayne Armstrong in 1996.