Japan produces first VFL players as bright future predicted for the JAFL
Friday, February 10 2006 @ 02:57 am ACDT
Contributed by: Brett Northey
Views: 8,833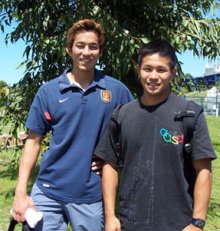 In a tremendous milestone for the development of international Australian Football, Japanese pair Tsuyoshi Kase (on the left in adjacent photo) and Michito Sakaki (to the right) will play for Bendigo in the Victorian Football League in 2006. This possibility has been suggested in several media reports recently but former head of the Japan AFL, Troy Beard, has confirmed that both players will be listed with Bendigo.




International player development opportunities have accelerated in the last year or so but the Japanese players are believed to be the first internationals, outside of the "Irish experiment" to play so highly. The VFL is regarded as one of the best leagues below AFL level - a definitive statement falls into the realm of parochial debate as players on the peripheral cross between the VFL and the SANFL often declaring the league they have signed with as the second best in the land - certainly interstate battles between the leagues are very close, with the WAFL not far behind.
Luke Matias from the Great Britain International Cup team is also in training, in a bid to make the Port Melbourne side also in the VFL.
Bendigo is affiliated with AFL club Essendon with whom Sakaki and Kase have been doing a full pre-season, including internal trials. We asked Troy Beard whether the two players were definitely going on Bendigo's list. "I have been told by Essendon staff that both boys will be put on to the Bendigo Bombers list. It might turn out that they play elsewhere but are used as top up players. I have had numerous calls from clubs and leagues wanting them. Most top up players get a chance throughout the year because of injuries, they just have to take their chance when it comes and run with it so to speak".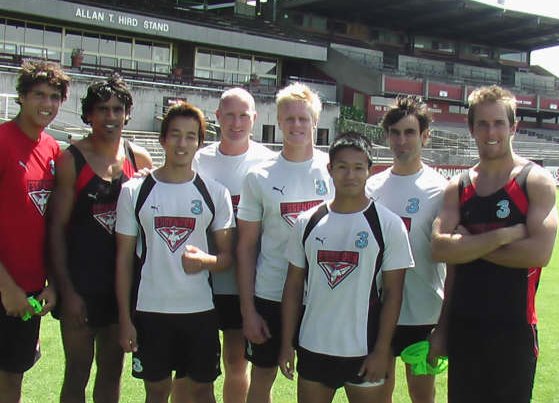 Michito Sakaki and Tsuyoshi Kase at training with Essendon - players back in Japan will be surprised by how quickly Sakaki has bulked up.
Rumours has also been strong that Sakaki had been the best performed of the two and may get a run with Essendon in their trial against Sydney, but Troy holds out hope for Kase too. "I'd say Michito will get a run against Sydney but Kase surprised all at the practise game and did well. I can't say too much at the moment but there is more to come that may raise some eyebrows". So far the players have been supported by Essendon, and Troy says details of any contracts at lower clubs have not been discussed yet.
There have been several media reports recently that have mentioned Japanese players, such as Damian Glass writing Bombers revel in intra-club for Sportal that "Two players who did stand out, albeit for different reasons, were two members of the Japanese team that participated in last year's International Cup. Tsuyoshi Kase and Michito Sakaki have been training with the Bombers during the pre season and lined up in the forward line for the Red team. Small in stature but with plenty of zip, the pair displayed remarkably good skills and showed plenty of courage. Although a long way away from the level required to play AFL football, the Japanese players acquitted themselves well and are expected to be selected on the Bendigo Bombers list in the VFL competition this season". This is typical of most reports, which express pleasant surprise at the standard of Sakaki and Kase, particularly the number of possessions they picked up in Essendon's intraclub match, but cautioning that they probably aren't quite AFL level - field kicking cited by one on-looker as slightly deficient. We probably can't expect either player to play AFL, but it will be fascinating to see how they develop with a full year or two in Australia.
Back to Troy Beard. He's been a big promoter and developer of footy in Japan, and is on the record as saying that any AFL club that signs a Japanese player will be flooded with new supporters from Japan. Obviously Sakaki and Kase are yet to make it quite to AFL level, but Troy sees some mutual benefits already flowing. "Its already happened, Uni students in Japan are hanging for any bit of information on how the boys are going. No doubt that the Bombers will pick up a fair bit of merchandise from Japan. They are also getting some media attention with at least one story being on the national news in Japan".
With the number of teams on the rise in Japan, how does he see the game progressing in the near future - maybe an AFL match staged there? "The game will develop further. I believe the next step is a full time GM to run Japan AFL. We are in the process of talks with the right people at present to fund this. That (an AFL match) would be fantastic but I would like to see a scholarship program with Essendon annually. Box Hill North has a similar program with us and have been one of the major reasons why Japanese football has moved forward. I would like to start sending three footballers a year to clubs. Two to BHN and one to Essendon".
Images of Sakaki and Kase training with Essendon can be found on the club's website.
Photos with our story courtesy of Troy Beard and Carla.