Danish Cats Visit Aussie Cats
Tuesday, April 11 2006 @ 04:30 pm ACST
Contributed by: Ian Hill
Views: 4,021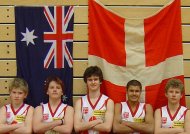 The Farum Cats are well known for their junior development of Aussie Rules. A significant part of that junior development are their tours to Australia which take place every three years. Their 2006 tour has just begun ...
One of the challenges of promoting an obscure sport to juniors in a foreign environment, is giving the kids a sense of how important the sport is to some people, and that there are folks in Australia whose lives revolve around the exploits of their footy clubs and its players.
For Danish kids, there are no James Hirds or Nathan Buckleys – it's all Jon Dahl Tomasson and Jesper Grønkjær. So in an effort to sell the sport to his young Danish players, Farum founder Jim Campion takes them on a trip to Australia every three years, where they get to play against Aussie kids, and not least see a few AFL games and realize how much it totally dominates the media in its home country.
The first two of these, in 2000 and 2003, were extremely successful and Campion and his charges have just started their third such trip. The team will base themselves in Geelong, with whose footy club Campion has managed to strike up a fruitful relationship.
The Danish team will be the feature attraction of two little league games at AFL matches – Geelong v Hawthorn at Skilled Stadium on April 15, and Geelong v Western Bulldogs at Telstra Dome on April 22. Considering that top level domestic Danish soccer games rarely draw more than 10,000 spectators, playing in front of these AFL crowds must be quite a thrill for the Danish kids.
The team will also reap the benefits of some coaching sessions from some Geelong AFL players, two of whom (Tim Callan and Jimmy Bartel) are already known to the Farum boys after their visit to Denmark last year. They will also spend some time away from the football field as they do some sightseeing in the west country and up to the Grampians as well as Melbourne.
The tour will finish off on April 27 with the traditional match with Geelong College for the Ceramiboard Cup, which is played whenever Farum visit Australia or Geelong College visit Denmark. The two clubs have been exchanging visits every 18 months since 2000.
The tours are a crucial part of the junior footy calendar in Denmark. With limited opposition both at home and in neighbouring European countries, if the junior Cats are going to travel anywhere at all it seems they might as well fly half way around the world to the sport's mecca for a decent dose of real footy.