Tri-nation comp planned for Austria, Czech Rep and Croatia
Monday, April 24 2006 @ 01:53 am ACST
Contributed by: Aaron Richard
Views: 5,052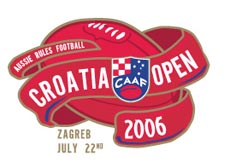 With the snow melting and the sun slowly edging out in Eastern Europe, the Czech, Austrian and Croatian Aussie rules clubs are dusting off the footy for what hopefully may be their first structured season. The three relatively new sides are planning a three-way series this year, beginning when the Vienna Dingos host the Zagreb Giants and Czech Lions in May. While the Czech and Viennese sides have played a few games to date, the Zagreb Giants will (hopefully) make their debut this year, after a successful Australia Day party netted a number of new squad members. The Giants are to host the first Croatia Open in July (logo at left).
If all goes according to current plans, the three-way series will kick off in May or June with the three sides meeting in Vienna. The next round would likely be in July as part of the Zagreb Cup and the final meeting would be part of the Prague Cup in August.
Ashley Ball from the Czech Lions says "Croatia and Austria have shown strong enthusiasm in setting up a league. We are currently finalising dates for games in Vienna, Zagreb and Prague. Vienna and Zagreb are both within driving distances and all three clubs are at the same level. This is an exciting step into setting up a permanent league with our neighboring countries."
The Czechs played their first-ever match when they hosted the Prague Cup last November, with sides from Finland and Düsseldorf visiting the hometown Czech Lions. This year the second Prague Cup will be held on August 19, with the Czechs hoping to see sides from England, Germany and Finland as well as Vienna and Zagreb.
In Zagreb, Kolja Koracak has been trying to start a club for a number of years, but it wasn't until January this year that numbers reached the point where a team was a genuine possibility. Koracak says "for Australia Day I helped organize an event that had multimedia presentations, photo exhibitions, a Foster's party and topical booths. One of those booths was a footy booth, with the AFL Grand Final on TV, AFL playstation game for anyone interested in playing, Alan Didak jumper auction (and some other stuff) and sign up for potential players."
"More then 1000 people came to the event and 16 signed up to be involved in footy. Also I made posters and put them up at colleges, cafeterias and tram stations."
"I did contact all AFL teams to send donations for Australia Day Event so the Bulldogs sent a few footys with logo, Crows sent some print material, cards, badges, the Eagles sent a footy and the Pies sent a signed Alan Didak jumper. All items were auctioned at event, starting low, but only one pity bid was made by my friend. The crowd didn't know what was auctioned, they don't know who Alan Didak was, I was telling them that's like Zidane in football, not the best, but one of the best in the sport. All items will be auctioned again at our tournament, players will appreciate those items more and I think we'll be able to make some money out of it."
"So if there is a team that is getting a new set of jumpers we would like to have their old ones, if there is business that does business with Croatia, we might be a cheap solution for their advertising, if there's a team in AFL or lower leagues that would like to have a sister club in Croatia and at the same time with that move win a lot of Croatian Australian fans - we are the solution..."
The first-ever Zagreb Cup wil also be held this year on July 22nd at the Mladost Rugby Fields. The tournament will be 9-a-side on rugby fields, with three visiting sides.
Says Koracak of the Giants' future plans "We plan on attending few tournaments each year and for that we need to find some sponsors, which has been tough so far, and to grow in numbers. If that brings the metro Zagreb league, great, but if not we'll try to form teams in Split, Rijeka, Osijek, Karlovac, Varazdin and other places so we can have a real league, but we're not focusing on that just yet."