Osaka Dingo Receives Scholarship to Play Footy in Australia
Friday, April 28 2006 @ 08:54 pm ACST
Contributed by: Aaron Richard
Views: 7,164

In an historic first for an Osaka player, the 2006 Robert Walters scholarship winner is Genki Tanaka (25). The selection of Genki of the Osaka Dingoes is an endorsement of the fantastic strides Australian Football has made in this densely populated, dynamic Japanese city. Like a number of Japanese players over the past few years, Genki will play with Melbourne club side Box Hill North, the first Japanese player from a non-Tokyo club to receive the scholarship.
This report courtesy of Gareth Jones.
Robert Walters Plc is one of the world's largest professional recruitment consultancies and has provided scholarships since 2003 to Japanese players wanting to spend a year playing footy in Australia. The scholarship is an important means to promote footy in Japan and allows Japanese players to deepen their knowledge and appreciation of Australian Football.
Through the JAFL, Box Hill North F.C and Robert Walters, this scholarship for Japanese players provides an opportunity to gain a well rounded football education in Australia. This education is achieved by requiring the scholarship winner to play a season with Box Hill North in the Victorian Amateur Football Association (VAFA), study English and acquire AFL qualifications in coaching and umpiring.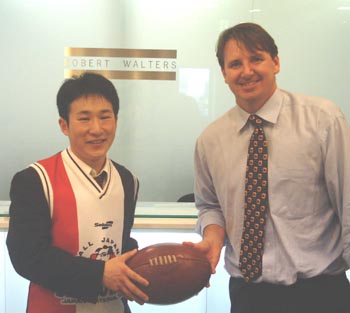 Genki is committed to bringing this knowledge back to Osaka so he can help in the further development of footy in this city.
Genki began playing football with the Osaka Dingoes two years ago and identifies tough games at the Narita Cup as the trigger that whet his appetite for footy and convinced him to apply himself to developing his football skills. Over two years, Genki has developed into a strong, fast running player. He currently plays as a ruck-rover with the Dingoes and according to Dingoes captain Junji Tanaka, Genki is in a similar mold to Michito Sakaki, who recently became Japan's first player to play for an AFL team (Essendon versus Sydney Swans). One of the highlights of Genki's football career so far was playing for the Japan national team, the Samurais, when they toured Melbourne in August, 2004. One of his games for the Samurais was against his new club Box Hill North.
Genki's journey in 2006 will begin with a one year stint at Box Hill North. While in Australia, he carries the hopes and aspirations of the whole Osaka Dingoes team.
A long list of people has played important roles in ensuring Genki received the 2006 scholarship. Osaka would like to thank the efforts of Kevin Gibson, Managing Director Robert Walters Japan; Hideki Miyasaka, JAFL President; Matthew Hegarty, Tokyo Goannas President, Simon Evans, Box Hill North President and our own Stuart McLean, Osaka Dingoes President. With Box Hill North visiting Osaka in June 2006 the relationship between Box Hill North and Osaka Dingoes is developing well.
All Dingoes wish Genki the best of luck in 2006. Genki has proved himself as a footy player at the Dingoes and he is tremendously popular on- and off-field, attributes that will serve him well at Box Hill North.