Inaugural High School Comp Held in Denmark
Friday, May 05 2006 @ 05:26 pm ACST
Contributed by: Ian Hill
Views: 6,380

International junior footy pace-setters Farum in Denmark broke new ground again with a lightning premiership for some high schools in Denmark and Sweden.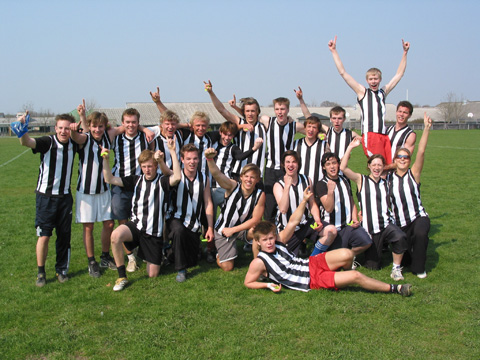 Nærum Amts Gymnasium celebrate their win.
The inaugural Scandinavian High School Challenge was held today in Farum, Denmark with three high schools from Denmark and one from Sweden doing battle. The schools were Nærum Amts Gymnasium, Birkerød Gymnasium, Marie Kruse School (all from Denmark) and Bladins School from Malmö in Sweden.
The event was a new concept in junior footy in Scandinavia, for the first time targeting much older students in the 16-19 age group. A handful of the Marie Kruse players had experience with Farum but the rest of the players participating were more or less brand new to the sport.
The standard of play was quite high given the lack of experience and not only that, the level of competitiveness was extraordinary. There were several players that would not have looked out of place in a full scale DAFL Premier League match. Indeed, the event paid immediate dividends for the hosting Cats with a handful of the players already asking after the comp where and when Farum trained.
The three Danish schools shared two wins apiece while Bladins didn't manage one. The Swedes were hard hit by exams and their whole team was in general a year or two younger and noticeably smaller than the others. Nevertheless they battled out the tournament admirably.
Nærum and Birkerød surprised MKS by snatching the Grand Final spots on percentage and Nærum were far too good in the final and accepted the cup from Susan Allen, First Secretary at the Australian Embassy to Denmark who was kind enough to grace the event with her presence.
Scores:
MKS 3.5(23) d. Birkerød 2.4(16)
Nærum 5.4(34) d. MKS 1.3(9)
Birkerød 4.2(26) d. Bladins 1.1(7)
Nærum 4.3(27) d. Bladins 1.0(6)
Birkerød 2.0(12) d. Nærum 1.1(7)
MKS 3.5(23) d. Bladins 0.0(0)
FINAL: Nærum 3.8(26) d. Birkerød 0.0(0)